Israeli Couscous Salad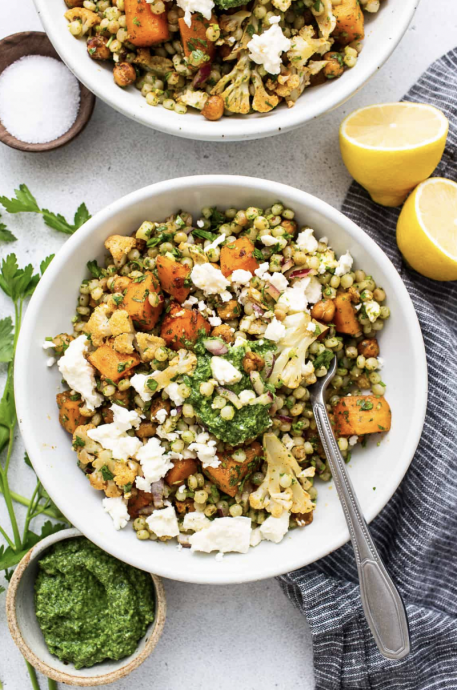 Say hello to this flavorful Israeli couscous salad. This salad is delicious warm or cold and is packed with vegetables and protein.
Make this delicious salad for dinner, as meal prep for the week, or as a side dish.
It's packed with vegetables.
There are 17 grams of protein per serving.
Homemade kale pesto gives adds greens and amazing flavor to this recipe.
Israeli couscous has an amazing texture that is filling and delish.
Ingredients:
Kale Pesto
⅓ cup olive oil separated
4 cloves garlic peeled
4 cups chopped kale deboned and packed
½ cup grated parmesan cheese medium grate
3 tablespoons fresh lemon juice
½ cup walnuts
1 teaspoon kosher salt
Israeli Couscous
1 tablespoon olive oil
1.5 cups uncooked Israeli couscous
2 cups water
3.5 tablespoons kale pesto
Spice Mix
1 tablespoon garlic powder
1 teaspoon chili powder
1 teaspoon paprika
½ teaspoon ground cumin
1 teaspoon coarse salt
Butternut Squash
4 cups butternut squash chopped into ¾-inch chunks
1 tablespoon olive oil
Half the spice mix ~1.5 tablespoons
Beans
15 oz. garbanzo beans drained and rinsed
1 teaspoon maple syrup
½ teaspoon ground cinnamon
½ teaspoon garlic powder
¼ teaspoon salt
¼ teaspoon cayenne pepper
Cauliflower
1 small head cauliflower ~4 cups
1 tablespoon olive oil
Half the spice mix ~1.5 tablespoons
Other Ingredients
½ large red onion minced (~½ cup)
1 cup chopped fresh parsley
1 tablespoon red wine vinegar
¼ teaspoon salt
½ cup feta