Ham Potato Casserole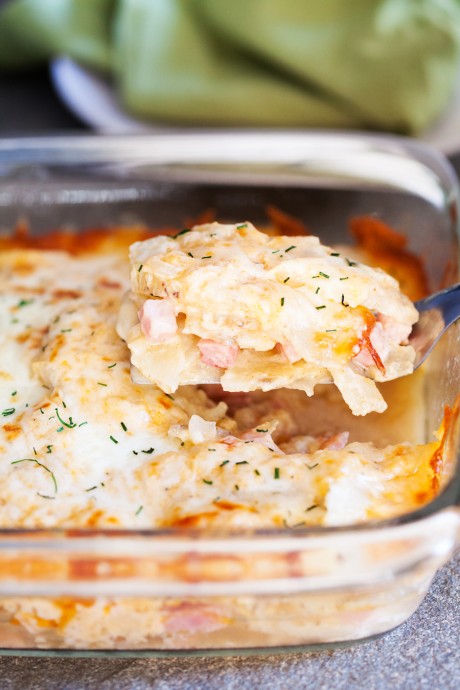 Savory ham and perfectly cooked potatoes make a delicious breakfast, but add a thick and well-seasoned sauce, and you have a scrumptious dinner that will be enjoyed by everyone. Comforting country ham potato bake has layers and layers of country flavors and will give lasagna a run for its money.
Sure to become a family favorite, this quick casserole combines cubed cooked ham, potato slices, and tender onions blended with a creamy cheesy sauce. I first learned this recipe at my mom's side and have loved it ever since. We usually make a few adjustments in our house as we are a homesteading family and want to utilize the garden and what meats my husband has harvested over the year. So yes, we make it with bacon, chicken, or even venison! The potatoes are always from the garden and our favorite variety is red, but russet work well too. No matter how you customize this recipe I'm sure your family will love it! Feel free to add your favorite vegetable to this casserole! You can add carrots, celery, green pepper, jalapeno, and broccoli just to name a few.
Ingredients:
3 tablespoons unsalted butter
1/2 cup shredded Monterey Jack cheese
1 1/2 pounds potatoes, sliced about 1/4-inch thick
2 cups cooked ham steak, cubed
2 cups milk, slightly warmed
1 1/2 teaspoons mustard powder
1 teaspoon cayenne pepper
1 teaspoon pepper
1 teaspoon salt
3 cloves garlic, minced
3 tablespoons all-purpose flour
1 medium onion, diced
Chives for garnish optional