Shiitake Veggie Stir Fry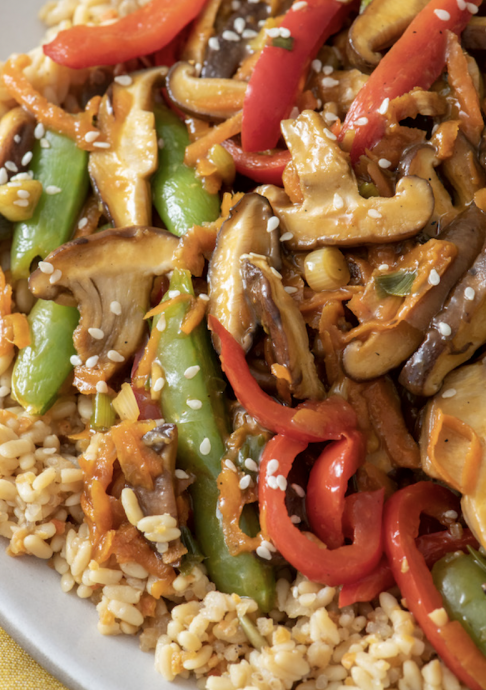 Shiitake Veggie Stir Fry is a simple to make, quick meal that's packed with good-for-you vegetables.
This is a really quick side dish as well. You don't want to over cook the veggies, instead sautéing them for minutes to make sure the vegetables still have a little bite to them. You also can't get any healthier than this recipe when you're trying to get a rainbow of nutrition in your family's body. Cut into small pieces it's also easy for little eaters to enjoy as well. Make this Shiitake Veggie Stir Fry when you're trying to get new (or old) eaters to expand their veggie repertoire!
Ingredients:
3 tablespoons low sodium soy sauce
1/2 cup low-sodium vegetable stock
1 teaspoon cornstarch
2 teaspoons sesame oil
1/2 pound shiitake mushrooms, sliced
1 red bell pepper, thinly sliced
1 tablespoon minced fresh ginger
1 garlic clove, minced
1 large carrot, grated
1 cup sugar snap peas or snow peas
2 scallions, chopped
2 cups cooked brown rice
toasted sesame seeds, optional