Healthy Carrot Cake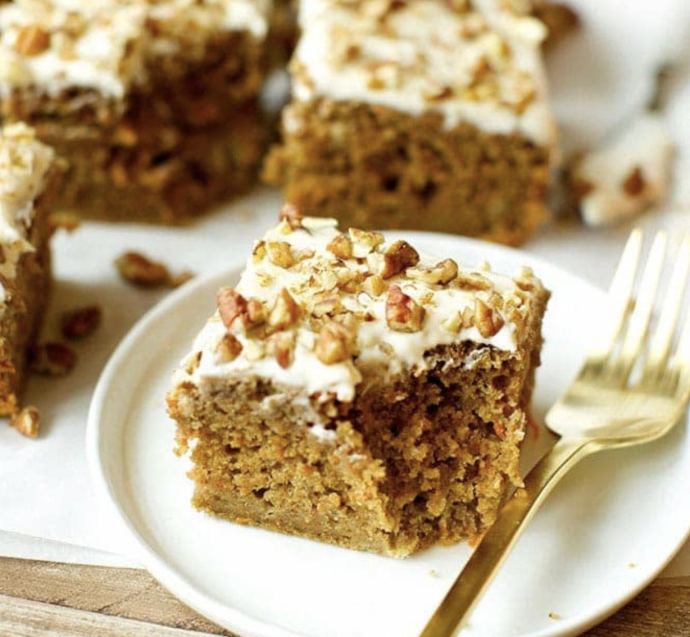 Our healthy carrot cake recipe is ultra moist and made with whole ingredients such as white whole wheat flour, maple syrup, warm spices, and applesauce.
So I'm trying to figure out what season carrot cake belongs in. Is it a winter cake? A summer cake? An Easter cake? The world may never know.
I'm dubbing it a year-round cake because carrots are pretty much always in season. How do you feel about that?
This healthy carrot cake recipe is probably the easiest carrot cake you'll ever make and it is so good!
Ingredients:
Dry
3-4 large carrots peeled and grated (2-cups packed)
3/4 cup white whole wheat flour
3/4 cup all-purpose flour
1/2 cup light brown sugar
1/2 teaspoon baking powder
1/2 teaspoon baking soda
1 teaspoon cinnamon
1/2 teaspoon ground ginger
1/8 teaspoon salt
1/3 cup chopped pecans
1/3 cup raisins
Wet
1/3 cup unsweetened applesauce
2 large eggs
1 teaspoon vanilla extract
1/4 cup maple syrup
1/4 cup unsweetened almond milk
2 tablespoons melted coconut oil
Cream Cheese Frosting
1/2 cup fat-free cream cheese
1/2 cup nonfat Greek yogurt
2 tablespoons maple syrup or more to taste