Cheesy Baked Orecchiette with Spinach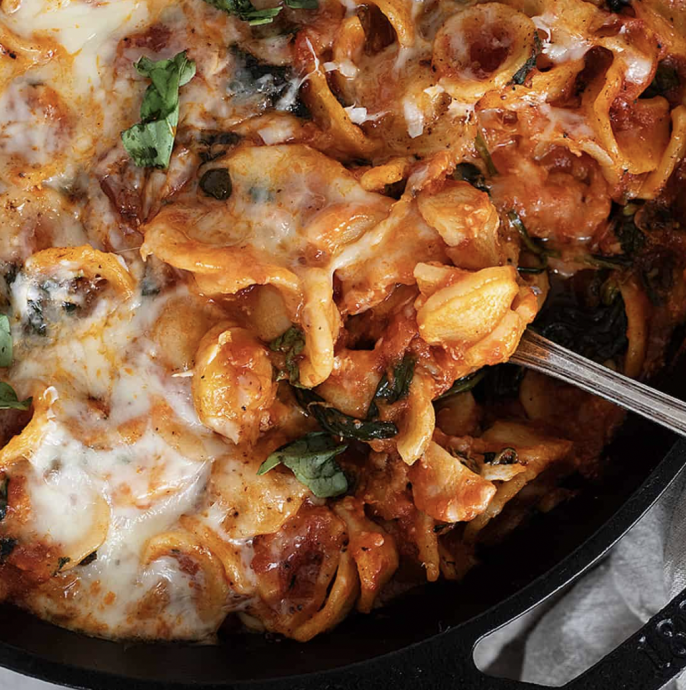 An easy, cheesy baked orecchiette pasta, with spinach and optional pancetta (or bacon).
Perfect comfort food that makes for great leftovers, too!
Orecchiette Pasta – (pronounced oh-reck-ee-ET-tay) which means "little ears" in reference to its unique shape. It's not as popular as some pasta shapes, but its a nice change from the usual. Canadians can find a great Black Label version at Loblaws affiliated store. DeCecco also makes it and should be reasonably easy to find. It takes a surprisingly long time to cook, so taste often and cook until just al dente.
If you can't find or don't want to use Orecchiette pasta any short pasta will work, such as bowtie, penne or rotini etc.
Pancetta – adds a lovely salty note to this dish, which many baked pastas are lacking, in my opinion. You can use either pre-diced pancetta or get some slices from the deli counter and slice them into lardons. You could also use bacon in place of the pancetta. Of course, if you're wanting a vegetarian dish, simply omit.
Spinach – baby spinach is the best option, as it can be used as is. You'll need the full small clamshell for the 5 oz. specified. If you only have larger spinach leaves, simply chop down before adding. In a pinch, you could even use from spinach (thawed, squeezed dry and stirred in at the end and before baking).
Marinara Sauce – For the easiest preparation, grab a good quality jarred Marinara Sauce. Many swear by Rao's, but I love the PC Black Label Marinara, which is made with just a few simple ingredients and half the price of Rao's. For a fully homemade version, you can certainly make your own marinara or use homemade marinara sauce that you tucked away in the freezer :)
Basil – fresh basil leaves are best if you have then. If not, dried basil is just fine.
Mozzarella Cheese – use simple pizza-type, low-moisture mozzarella. Provolone would also work here. Either way, simply shred and stir into the pasta.
Ingredients:
8 oz. orecchiette pasta, about 2 cups
1 teaspoon olive oil, for the pan
1/4 cup pancetta, diced or sliced (or bacon, or omit for vegetarian)
2 cloves garlic, diced
1/8 teaspoon red pepper flakes
5 oz. baby spinach, about 7 cups
22-24 oz. jarred marinara sauce
1/4 cup fresh basil leaves, chopped, or about 1 Tablespoon dried basil leaves
1 cup shredded mozzarella cheese, plus more for topping
Salt and freshly ground pepper
For topping:
1/4-1/3 cup shredded mozzarella cheese
1/4 cup Parmesan or Pecorino, grated