Black Eyed Peas With Smoky Collards And Cheesy Grits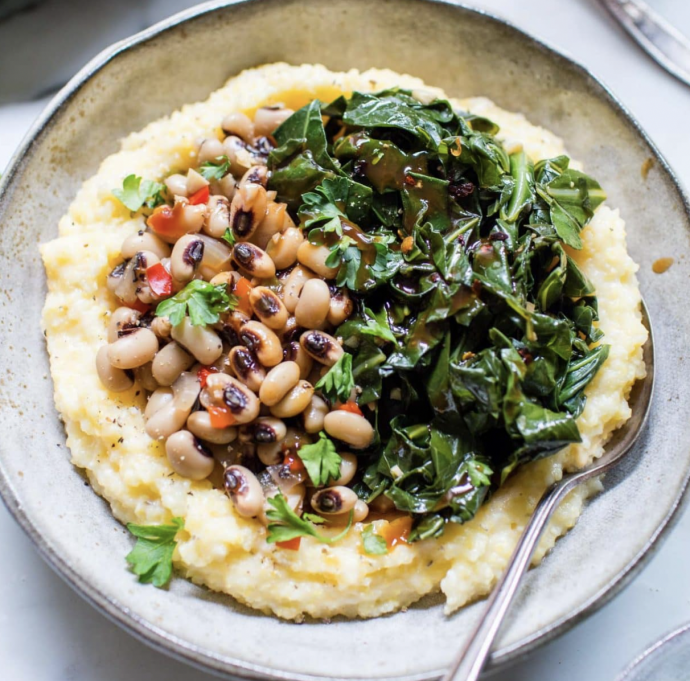 A quick and easy meal for busy evenings, this collard greens and black eyed peas recipe is simple to pull together. Making Slow Cooked Black Eyed Peas ahead means dinner is ready in about 30 minutes! This recipe is vegetarian or vegan and easily gluten free.
They're a powerhouse of nutrition and are delicious to incorporate into your food rotation. Raw, they're a sturdy thick green with a texture similar to kale but even heftier. Cooked, they become tender yet still hold their structure.
Collard greens typically call for some sort of meat to flavor them. But for this vegetarian and vegan collard green recipe, I use liquid smoke, garlic and Tamari to bring out their best flavor!
Ingredients:
For the Black Eyed Peas:
2 1/2 C (670g) Slow Cooked Black Eyed Peas*
*OR*
1 C (165g) Dry Black Eyed Peas soaked overnight, rinsed.
2 C (472g) Vegetable Broth
1 C (210g) Yellow Onion small dice, about one onion
1 C (150g) Green Bell Pepper small dice, about one or a mix of green and red
2 Cloves of Garlic
1 Bayleaf
1 tsp Vegan Worcestershire Sauce gluten free if needed
1/2 tsp Liquid Smoke
A few dashes of Tabasco optional but recommended!
For the Collard Greens:
1/2 C (130g) Vegetable Broth
1/2 tsp Liquid Smoke
1/2 tsp Tamari
4 Cloves of Garlic minced
1 lb (565g) Collard Greens cut into ribbons and washed thoroughly
1 tsp Apple Cider Vinegar
Pinch of Red Pepper Flakes optional but recommended!
For the Grits:
3 C (710g) Water
1/2 tsp Sea Salt
1 C (150g) White or Yellow Corn Grits**
1/2 C (50g) Monterey Jack or Cheddar Cheese shredded, OR 1 1/2 TBS Nutritional Yeast*** for dairy free
For Serving:
Serve with Fresh Sliced Jalapeños
Tabasco
Smoky Bourbon Home