Salted Caramel Cookies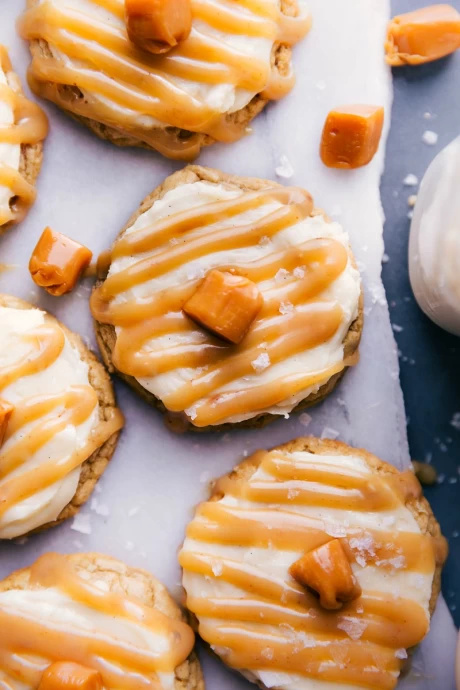 These Salted Caramel Cookies make the ultimate show-stopping, soft-yet-sweet, bakery-style cookie! These cookies start with a graham cracker cookie base, are loaded up with cream cheese frosting, and drizzled with salted caramel sauce (or plain caramel sauce if you prefer!). While Salted Caramel Cookies have quite a few steps and are overall fairly time consuming, they're also very easy to make. If you're looking to wow family or friends this holiday season, these are the cookies to make! Plus, you will get some leftover caramel sauce out of the process.
While you can purchase caramel sauce to top these cookies, nothing beats homemade! The homemade Caramel Sauce I share with these cookies is so simple to make (only six ingredients and no candy thermometer needed). The caramel sauce makes more than you'll need for these cookies, but it works best in this quantity. Use leftover caramel sauce as a dip for apples or other fruit, as an ice cream topping, or to drizzle over a sweet breakfast like pancakes or waffles.
Because of the mascarpone and cream cheese ingredients, these cookies don't store or freeze well once they're frosted. If you're going to have extra cookies that won't be enjoyed the same day, I recommend storing the frosting, caramel sauce, and cookies separately and adding frosting and caramel sauce right before serving. The frosting and caramel sauce need to be stored in separate airtight containers in the fridge, while the cookies do best when stored at room temperature.
Ingredients:
Cookies
12 tablespoons (3/4 cup; 170g) unsalted butter melted
1/2 cup (100g) white granulated sugar
3/4 cup (120g) light brown sugar lightly packed
1 large egg yolk (discard or save the whites for another recipe)
1 large egg
1/2 tablespoon pure vanilla extract
1 and 3/4 cups (230g) white all-purpose flour measured correctly (See Note 2)
1 teaspoon baking soda
1/2 teaspoon fine sea salt
2 teaspoons cornstarch
1 cup (113g) graham cracker crumbs (lightly packed, about 9 full sheets)
Mascarpone Cream Cheese Frosting
4 ounces (105g) full fat cream cheese softened
1/2 cup (107g) mascarpone cheese (OR use 4 more ounces cream cheese), softened
8 tablespoons (1/2 cup; 113g) unsalted butter softened
2 teaspoons pure vanilla extract
1/8 teaspoon fine sea salt
3 cups (363g) powdered sugar
Caramel
8 tablespoons (1/2 cup; 113g) unsalted butter
1 cup (227g) light brown sugar lightly packed
1 cup (310g) light corn syrup (like Karo)
1 can (14 oz. 396g) sweetened condensed milk (regular, not fat-free)
1/2 tablespoon pure vanilla extract
1/2 teaspoon fine sea salt add to taste preference
Optional: Werther's soft caramels and sea salt flakes for topping