Thai Coconut Grilled Chicken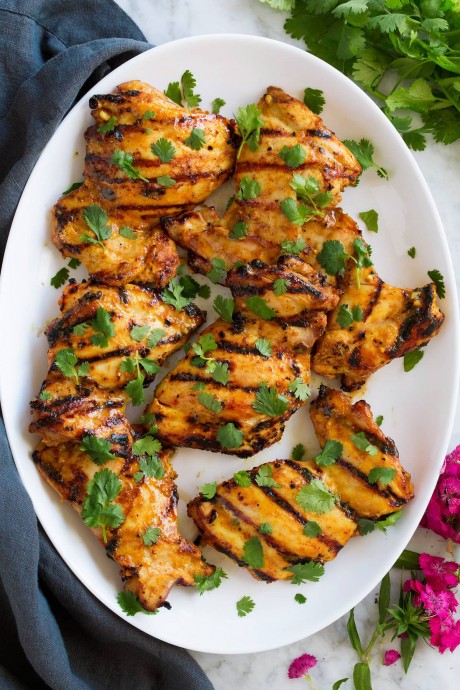 Thai Chicken made with creamy coconut milk, vibrant fresh lime, a delicious blend of spices, a hint of sweetness, and Sambal Oeleck for an exciting spicy kick! It's a simple Thai style chicken recipe that finishes with incredible results, thanks to a well-rounded and nicely seasoned marinade. And yes it may seem like an interesting blend of ingredients, but it will remind you of a good curry.
In other words you'll never get tired of this chicken! Thighs are best, but chicken breasts will work just fine too if that's what you prefer. Just be careful not to over-cook because they'll start to dry out. Pair it with steamed jasmine rice (or coconut rice) and grilled or sautéed vegetables (broccoli, bok choy, peas, asparagus, carrots, bell peppers, mushrooms, etc), for an easy and nutritious dinner. Wondering what to make with the leftover coconut milk? Bake my favorite coconut cake (use a hint of regular milk if you're a tad short on coconut milk), add it to oatmeal, make French toast or try it in this tasty Hawaiian Fried Rice.
Ingredients:
1/2 cup canned coconut milk (briefly warmed and stirred if lumpy)
1/4 cup lime juice, plus 2 tsp lime zest
1 - 2 Tbsp sambal oelek, to taste for desired heat
1 1/2 Tbsp brown sugar
1 Tbsp vegetable oil or olive oil
1 tsp ground coriander
1 tsp ground cumin
1/2 tsp turmeric
1/8 tsp ground cinnamon
1 1/2 Tbsp minced fresh ginger
1 1/2 Tbsp minced fresh garlic
Salt
1/4 cup chopped cilantro
6 boneless skinless chicken thighs,* trimmed of excess fat (about 2 lbs)