Sesame Udon Noodles with Roasted Vegetables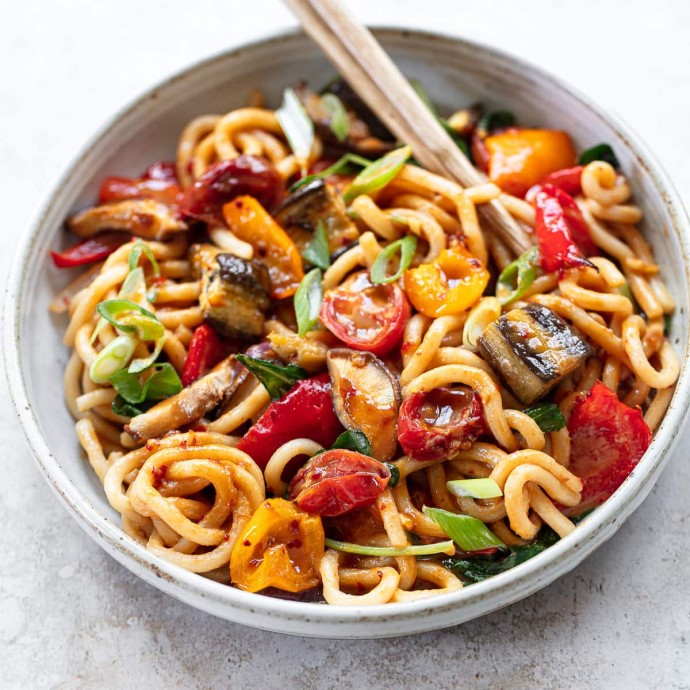 Crazy delicious udon noodle bowl combines roasted Mediterranean vegetables and a toasted sesame tahini sauce. This is a 30-minute vegan/vegetarian recipe. Roasting a sheet pan full of vegetables is absolutely one of the easiest ways to get the sweet flavors of summer produce, anytime of year.
It's one of my favorite ways to approach vegetable cooking, and there's nothing simpler! The surprising twist in this recipe is that I created a fusion of two cuisines — Asian and Mediterranean — into one crazy-good bowl. Traditional ratatouille is a humble dish from southern France, a thick hearty stew made with a combo of colorful vegetables. I took my inspiration from that tradition to create the base of this totally yummy bowl. This udon noodle recipe combines robust noodles with a colorful mix of vegetables with a hard-to-stop-licking-the-spoon creamy (vegan) sauce made with tahini and toasted sesame oil. I love the texture of udon noodles. They have a thick, chunky shape with a tender chew, almost like an Italian bucatini pasta.You can make this recipe with any noodle you want, like soba or even spaghetti or rice noodles.
Ingredients:
SESAME TAHINI SAUCE
3 tablespoons (45 ml) tahini sauce
3 tablespoons (45 ml) shoyu or tamari sauce
2 tablespoons (30 g) granulated sugar or maple syrup
1 tablespoons (15 ml) toasted sesame oil
1 teaspoon Asian chili garlic sauce
1 teaspoon finely chopped garlic
NOODLE BOWL
1 (226 g) Japanese eggplant, sliced into 2-inch chunks
3 ounces (85 g) shiitake mushroom caps, sliced into 1/2-inch strips
1 red, orange or yellow bell pepper, sliced into 2-inch pieces
1 cup (150 g) cherry tomatoes
½ cup sliced red onion
2 tablespoons (30 ml) extra virgin olive oil
1 teaspoon Korean chili pepper (gochugaru) or crushed red chili
Salt, to taste
1 green onion, sliced on the diagonal
2 cups baby spinach leaves
1 pack Annie Chun's Organic Udon Noodles, or 12 ounces cooked spaghetti or rice noodles