Raspberry Cheesecake Bars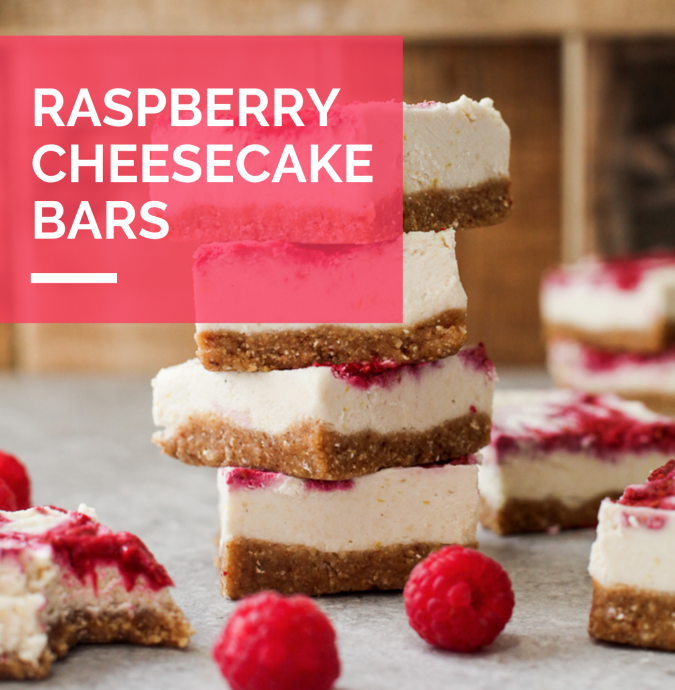 Creamy luscious cheesecake bars with a buttery cracker crust and topped with fresh berries is a crowd-pleasing wonderful summer dessert!
There's an art to making a rich, creamy cheesecake. It needs to have a silky smooth filling with a buttery sweet graham cracker crust. Add fresh seasonal raspberries and strawberries on top to complement the richness with sweet freshness.
A full-on formal cheesecake requires a special pan with a removable bottom and, generally speaking, a special occasion. These easy bars with a tasty cookie crust give you the cheesecake effect in a much easier way. They freeze really well in an airtight container. You can just take as many or as few as you'd like out of the freezer and enjoy them an hour later, once they've defrosted. Note that you'll need to start softening the cream cheese about an hour ahead of time.
Ingredients
1½ pounds (three 8-ounce packages) cream cheese
¾ cup (1½ sticks) butter
2½ cups unbleached all-purpose flour
1 teaspoon cinnamon
½ teaspoon plus 1/8 teaspoon salt (some for the crust, some for the filling)
2/3 cup (packed) light brown sugar
4 large eggs
2 tablespoons fresh lemon juice
1 tablespoon pure vanilla extract
1/3 cup granulated sugar
Fresh raspberries and strawberries for garnish
Directions
Step 1
About an hour ahead of time, unwrap the cream cheese and place it in a large bowl. Use a table knife to cut it into 1-inch pieces, and let it stand at room temperature to soften.
Step 2
Adjust the oven rack to a medium-low position and preheat the oven to 350°F (325°F if you're using a glass pan).
Step 3
Melt the butter in a microwave-safe bowl in the microwave (30 to 60 seconds on high power), or in a small saucepan over low heat.
Step 4
Combine the flour, cinnamon, and ½ teaspoon of the salt in a large bowl, and stir briefly. Crumble in the brown sugar, and then pour in the melted butter, scraping it all in with a rubber spatula. Use a spoon or fork to mix the butter into the dry ingredients until uniformly blended. Transfer this mixture to an ungreased 9-by 13-inch pan, and pat/press it evenly and firmly into place, forming a crust that coats the entire bottom surface of the pan.
Step 5
Add the eggs, lemon juice, vanilla extract, the remaining 1/8 teaspoon salt, and the granulated sugar to the softened cream cheese. Use a handheld electric mixer (or a sturdy whisk) to beat all these ingredients together. Start slowly, so as not to splash, and then gradually work your way up to high speed as the batter comes together. Keep going until the mixture is uniformly blended. There will still be some small lumps of cream cheese, and that is fine. Pour this mixture on top of the crust, scraping in every last bit with a rubber spatula. There's no need to spread it; it will form an even layer on its own.
Step 6
Bake for 20 minutes, or until the edges are lightly golden, the top looks dry, and nothing jiggles when you shake the pan. Remove the pan from the oven, and immediately use a very sharp knife to cut 24 bars with a gentle sawing motion, so as not to disturb the lovely top surface. Cool completely in the pan before lifting out the squares.
Step 7
Garnish each square with fresh berries.
Tips:
- For a crisper crust, you can bake the crust on its own in the preheated oven for 10 to 15 minutes. Remove it from the oven and let it cool for 10 minutes before pouring in the cream cheese mixture. Once the crust is filled, return the pan to the oven and bake for 20 minutes as directed.
- For a deeper flavor in the crust, you can replace 1 cup (0.24 l) of the flour with finely ground almonds. (Pulverize them to a fine powder in a food processor or blender, or look for ground almonds or almond meal in the baking section of the grocery store.)
I love to hear from you! If you make this recipe, please be sure to leave a comment and give me a feedback! :)
I hope you love these raspberry cheesecake squares. Happy Baking!