Chicken in Red Wine Vinegar Sauce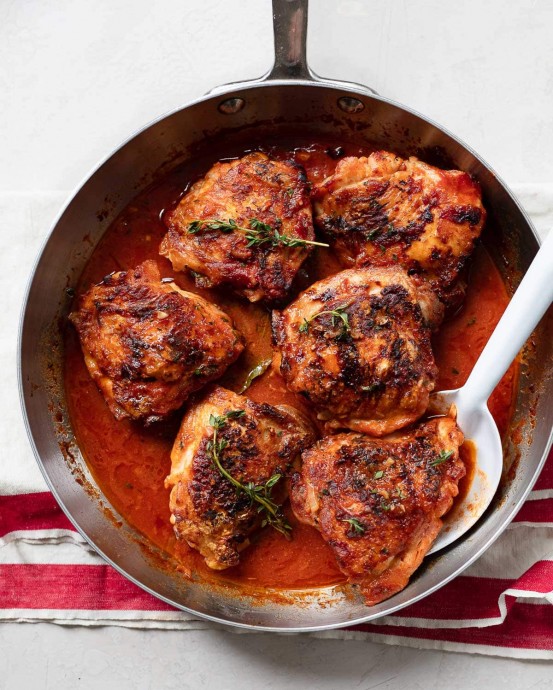 Wine vinegar chicken is a simple French-inspired dish you can make with pantry staples like red wine vinegar, shallots and tomato paste.
You'll be pleased that such a tasty dish uses ingredients that are easy to find and the method is really simple. What does vinegar do to chicken? Chicken tastes great with any acidic ingredient! My favorite trick for making tasty chicken is to pre-season it with salt, often well in advance of cooking. The thought of not only planning the next day's dinner in advance but actually getting it prepared in advance can seem like one more chore. BUT — in this case the "preparation" involves taking chicken out of the package, sprinkling it with salt and putting it back into the refrigerator. Then forget about it for 24 hours. After searing the chicken skin until it's nice and brown, pour in some dry white wine and vinegar along with the other ingredients. As the chicken roasts, the chicken thighs become tender and the liquid reduces just enough to make a delicious, savory sauce.
Savory and delicious French-style chicken in red wine vinegar sauce. This homey dish cooks in 30 minutes. Serve this delicious chicken with a simple salad, roasted smashed potatoes and plenty of crusty bread to soak up sauce!
Ingredients:
2 pounds (900 g) bone-in, skin-on chicken thighs (about 6)
1 tablespoons (15 g) kosher salt, I recommend Diamond Kosher brand
2 tablespoons (30 ml) extra virgin olive oil
1 shallot, thinly sliced
1 tablespoon (15 g) finely chopped garlic
1/2 cup (125 ml) dry white wine
1/4 cup (60 ml) red wine vinegar
3 tablespoons (45 g) tomato paste
1 tablespoon (15 g) Dijon mustard
1 tablespoon (15 g) chopped fresh thyme
2 small bay leaves
1/4 cup (60 ml) water or chicken broth
1/4 teaspoon crushed red chili flakes, optional