Green Shakshuka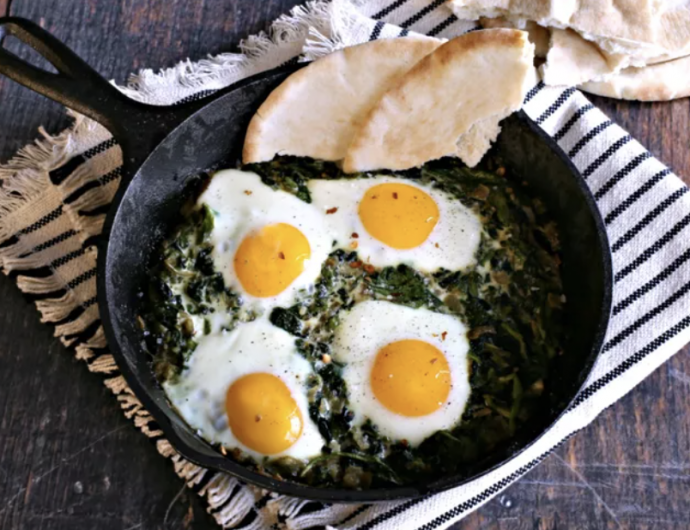 Shakshuka is a Middle Eastern and Mediterranean dish of eggs poached in a sauce with spices, served for breakfast, brunch, or even sometimes lunch. Although the most common version includes tomatoes and peppers in the sauce, vibrant green versions are also popular.
What constitutes green can be up to you, but spinach is the most common base. However, other hearty vegetables such as kale, Swiss chard, and broccoli rabe also work extremely well in this dish since the tough greens get the benefit of some simmering to soften them.
Once the base green sauce is cooked, you can poach the eggs entirely on the stovetop or cook them in the oven for a few minutes to set. Ideally, the finished eggs should have set whites and still runny eggs to mix into the sauce and vegetables. Use your favorite bread to dip into the mixture and spoon out the egg-covered greens.
Spices can vary, but are likely to include cumin and some form of heat such as red pepper flakes. Similar in style, Mexican huevos rancheros tend to have a very spicy sauce, whereas the Middle Eastern version can be mild or hot. But feel free to customize this dish with your favorite spices and greens for a great egg breakfast.
Ingredients:
1 tablespoon olive oil
1 medium onion, diced
1 garlic clove, finely minced
3 cups broccoli rabe, chopped
3 cups baby spinach
2 tablespoons whole milk, or cream
1 teaspoon ground cumin
1/4 teaspoon salt, or to taste
1/4 teaspoon black pepper
1 pinch sea salt, for garnish
1 pinch red pepper flakes, for garnish
4 large eggs