Strawberry Quinoa Salad With Brie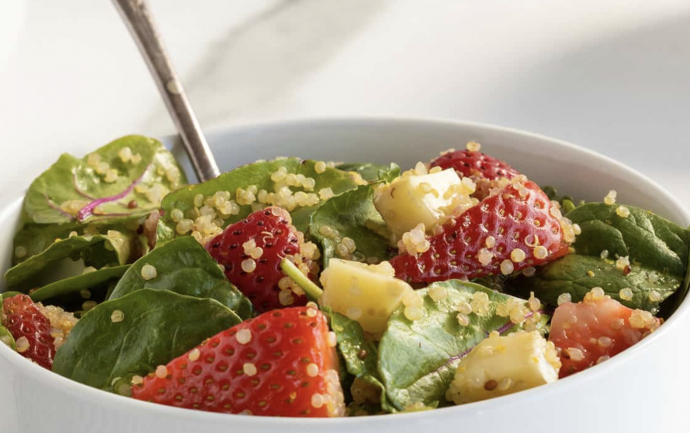 A delightfully decadent strawberry salad with brie cheese, quinoa, kale, chard & spinach. Whether you top this with a sweet grainy mustard vinaigrette, or eat it on its own, this is a healthy and delicious salad fit for any occasion.
When you think of salads, you typically think of things like tomatoes, shredded carrots, and cucumber. So adding fruit to a salad might seem pretty strange at first.
However, once you've tried it, you will find yourself adding berries to every salad. There is something surprisingly delicious and decadent about adding sweet fruits to an ostensibly savory salad, and it just helps bring everything together and make everything taste amazing.
Plus, if you can serve your fruitier salad with some quinoa and some brie, it'll be even better.
Ingredients:
4-5 cups mixed kale spinach and chard
1/2 cup cooked quinoa
1/3 cup diced brie – rind off: This is a personal preference
8 strawberries (as many as you like- I used 8 cut in halves and quarters
Vinaigrette:
2 tablespoons maple syrup
1 tablespoon olive oil
1 tablespoon brassica mustard
1/2 tablespoon balsamic vinegar