Rice Pilaf with Caramelized Onion, Orange, Cherry & Pistachio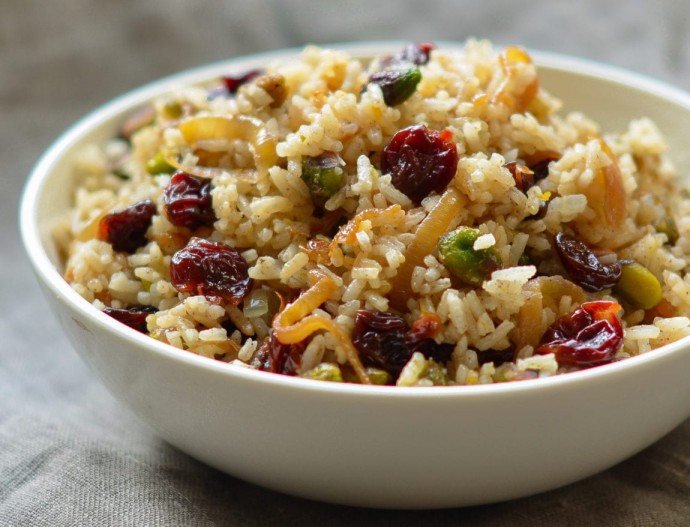 Sometimes it's nice to make a super-simple entree and focus on making your side dishes special instead. This exotic rice pilaf is a delicious way to jazz up basic pan-seared salmon or roast chicken. It's easy to make; just be sure to allow time to caramelize the onions. The key is to cook them low and slow so that they turn a rich caramel color without a touch of burning.
Fluffy, flavorful, and fabulous, this easy rice pilaf recipe makes a great side dish all year long. The perfect side for any protein, and a regular in your dinner rotation. The rice is perfectly cooked and fluffy, the flavors simple and wonderful. This is the kind of side that tastes amazing but really lets the main shine. It is far better than the boxed version, but just as easy to make.
Pair it with your favorite protein like smoked pork or chicken and serve with your favorite vegetables.
Ingredients:
4 tablespoons unsalted butter
3 medium onions: 2 thinly sliced into half-moons; 1 finely diced
1/2 teaspoon ground cumin
1/2 teaspoon ground cinnamon
1-1/4 teaspoon salt
Freshly ground black pepper
1 orange, zest (you'll use about 1/4 tsp) and juice
3/4 cup sweetened dried tart cherries
1-1/2 cups long-grain white rice
3/4 cup (3.5 oz) unsalted shelled pistachios