Banana Cheesecake Bundt Cake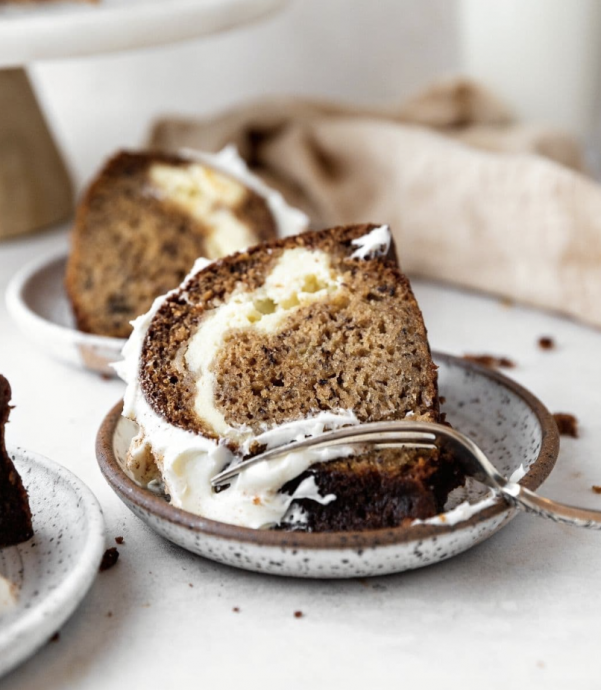 Banana Cheesecake Bundt Cake is the ultimate moist cake with bananas, ginger, nutmeg, cinnamon, cheesecake filling, and cream cheese frosting.
This Banana Bundt Cake recipe is sure to be a favorite dessert with cheesecake and banana bread lovers alike. The cake batter gets an amazing banana flavor and moist texture from mashed ripe bananas. Then warm spices like ginger, nutmeg, and cinnamon are mixed in, which tastes amazing with the fresh banana flavor, and is very reminiscent of Classic Banana Bread.
Along with the mouthwatering banana and cheesecake flavor, the fancy banana cake recipe is finished off with rich and delicious cream cheese icing. The combination of sweet and tangy ingredients in the topping makes it the perfect way to finish off this moist, creamy, sweet, spiced banana cake.
Ingredients:
Banana Bundt Cake:
2 cups very ripe bananas , (about 4 bananas) mashed
1 cup dark brown sugar , packed
3/4 cup sugar
2/3 cup sour cream
1/2 cup vegetable oil
3 large eggs
2 cups flour
2 teaspoons baking soda
1 teaspoon cinnamon
1/4 teaspoon nutmeg
1/4 teaspoon ground ginger
1/2 teaspoon salt
Cheesecake Filling:
16 ounces cream cheese
1 large egg
1/2 cup sugar
2 teaspoons vanilla extract
Cream Cheese Frosting:
4 tablespoons unsalted butter , softened
4 ounces cream cheese , softened
1/2 teaspoon vanilla extract
3 cups powdered sugar