Gluten Free Mochi Donuts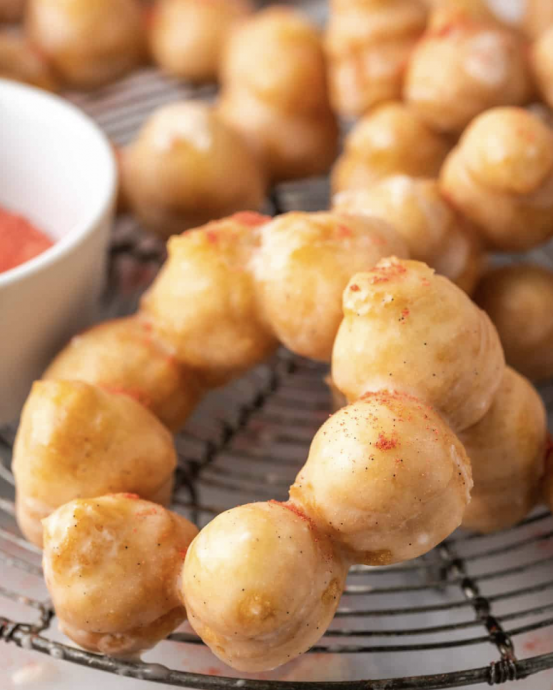 Sweet Gluten-Free Mochi Donuts are soft Japanese donuts that you can make in 30 minutes or less! Serve these easy homemade doughnuts as a dessert, or enjoy them with coffee or tea.
Ever since I made my first batch of Gluten-Free Apple Cider Donuts, I haven't looked back at store-bought. Whether I make air fryer donuts or deep fry them, making my own donuts at home is surprisingly easy, and I always know that they're 100% free from gluten!
Since we're also big fans of Asian-inspired recipes around here, I set out to make homemade gluten-free mochi donuts. These soft and sweet Japanese doughnuts are crispy on the outside and bouncy on the inside, with that signature mochi dough stretchiness.
I dipped my fried ring donuts in a sweet vanilla glaze, but there are so many ways that you can make this recipe your own with flavors, crushed freeze-dried fruit, and more. I've included some of my favorite variation ideas further on, but for now, let's get into the nitty-gritty of these mochi-mochi donuts.
Ingredients:
1 1/4 Cup Mochiko Sweet Rice Flour
3/4 Cup Gluten Free Flour Blend (King Arthur Flour)
2 1/2 teaspoons Baking Powder
1/2 teaspoon Salt
1/3 Cup Sugar
2 Eggs
1/2 Cup Warm Milk
2 Tablespoons Butter , melted
Vegetable Oil for frying
For the Glaze:
1 1/2 Cups Powdered Sugar
3 Tablespoons Milk
1 1/2 teaspoon Vanilla Bean Paste
Crushed freeze dried fruit for garnish , optional