Apple Bundt Cake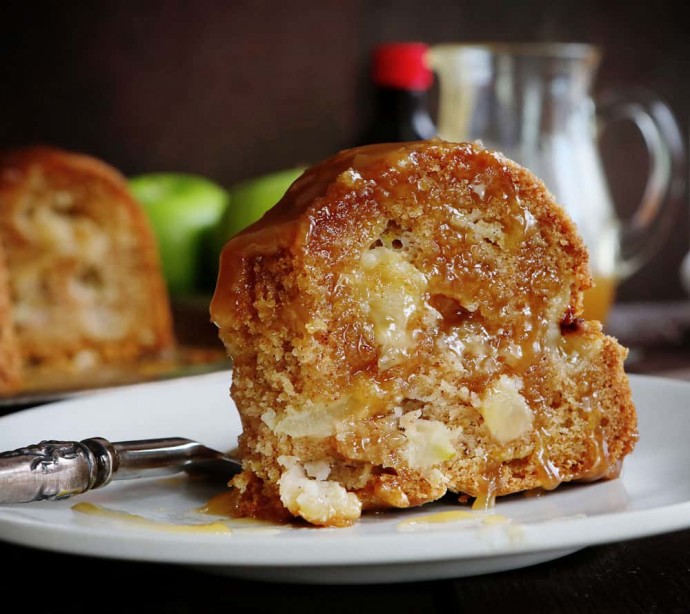 There are a couple of important things to remember when making a bundt cake. Make sure you start with a good recipe (one that fits in a bundt pan!) that has been tested and perfected. The other is your pan. Because this cake has big chunks of apples the batter will not mold perfectly in some of the bundt pans with more intricate designs. A classic bundt pan should work perfectly!
This cake could also be called an Apple Cinnamon Bundt Cake as we certainly packed in the cinnamon flavor!
One thing that could really put this recipe over the top is using apple pie spice. Simply substitute it for the cinnamon in this recipe. Frosting this cake could not be easier. Simply prepare the caramel sauce recipe as directed, then pour over the cake. A couple variations are waiting 15 minutes to pour the caramel. It will be nice and thick and holds it's shape. If you pour it immediately, it will soak into the apple bundt cake and do magical things. Both are delicious! As you can tell, folks rave over this bundt cake recipe! Big chunks of apples nestled into a cinnamon spice cake batter and covered in glorious homemade caramel sauce. Not only is it delicious, but this Apple Bundt Cake Recipe is perfect for creating new memories!
Ingredients:
CAKE
2 cups (450g) granulated sugar
1 1/2 cups (336g) vegetable oil
2 tsp. McCormick vanilla extract
3 large eggs room temperature
3 cups (384g) all-purpose flour
1 tsp. baking soda
1 tsp. cinnamon spice
1 tsp. salt
3 medium Granny Smith apples - peeled, cored. and chopped
CARAMEL GLAZE
1/2 cup (1 stick, 113g) butter
2 tsp. heavy cream
1/2 cup packed brown sugar
1 tsp. vanilla extract