Sloppy Joe Casserole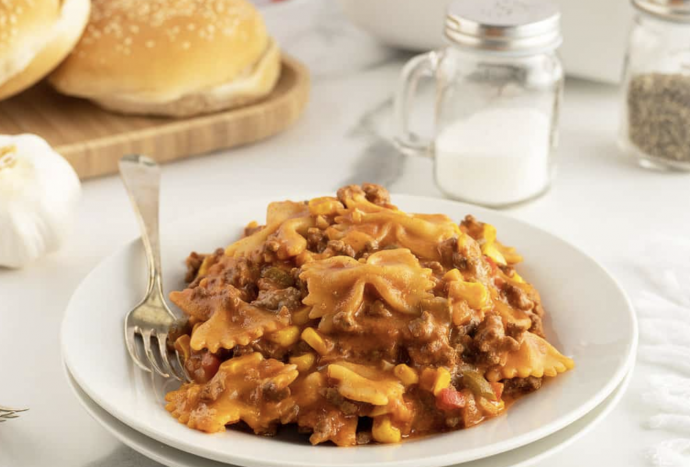 Want the familiar comfort of some Sloppy Joe's, but don't feel like getting messy? Why not turn the classic recipe on its head with this unique and tasty Sloppy Joe Casserole?
Sloppy Joes are always a crowd-pleaser and are considered to be one of the classic North American comfort food classics. While classics are classics for a reason it does not mean that you can't put your own spin on them and this sloppy Joe casserole does just that!
Rather than serving your sloppy Joe mixture in bread why not try turning it into a pasta casserole for the ultimate wintery night comfort food? What makes this even better is that being a casserole you can eat it with just a spoon and zero mess, unlike traditional sloppy joes that leave you with sauce dripping off your hands.
So the next time you feel like the comfort of a sloppy Joe but don't want to deal with the messy eating experience make sure to try this casserole instead!
Ingredients:
2 cups Dry Farfalle pasta (bow tie pasta)
1 1/2 pounds lean ground beef
1 cup white onion (diced small)
½ green pepper (diced medium small)
½ red pepper (diced medium small)
4 cloves garlic (minced)
1 can canned corn (all liquid squeezed out)
2 cups tomato sauce (or a 15-16 oz can)
2 Tablespoons Worcestershire sauce
1/2 cup ketchup
1 teaspoon seasoning salt (or to taste)
1 Tablespoon Brown sugar
8 Oz Velveeta cheese (chopped into cubes / slices)
1 cup cheddar cheese (grated)