French Onion Stuffed Meatballs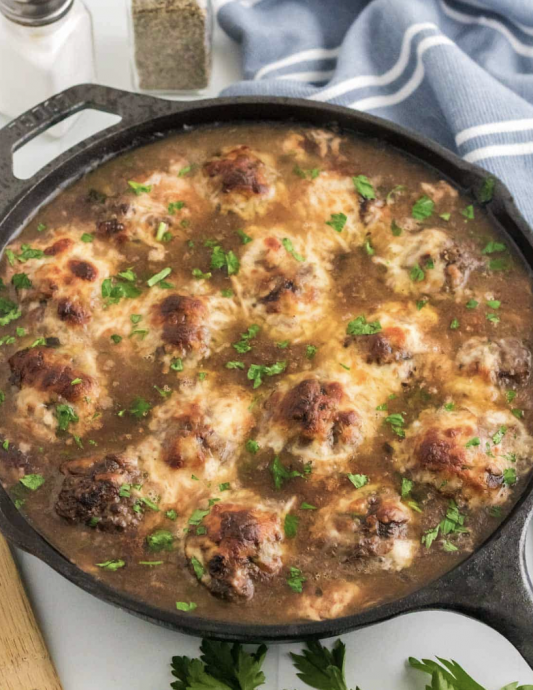 Stuffed with caramelized onions and mozzarella, these French Onion Meatballs are a hearty meal inspired by the classic au gratin soup recipe. Homemade meatballs are covered with more cheese and broiled until golden brown and bubbly, for a comfort food dinner the entire family will enjoy!
French Onion Soup is a classic soup recipe that originates in France, made with caramelized onions simmered in beef broth, topped with toast, and melted (often Gruyere) cheese. My dad's version uses mozzarella, which inspired this meatball recipe!
While most mozzarella-stuffed meatballs are simmered in tomato sauce, these are smothered in a simple, rich sauce made of beef stock and red wine reminiscent of French onion soup. The meatballs are then baked until the cheese inside becomes a pocket of melty deliciousness.
Of course, you can't forget the au gratin. The entire pan gets covered in more mozzarella and placed under the broiler to get that perfectly browned cap of toasty cheese.
Ingredients:
For the onions
1 Tablespoon olive oil
2 large onions, halved and thinly sliced
1/2 Tablespoon fresh thyme or 1/2 teaspoon dried thyme
1 teaspoon salt
1/2 teaspoon pepper
1/4 cup beef broth
1/4 cup red wine (I used Pinot Noir, but your favorite red wine will work, or substitute beef broth)
For the meatballs:
1 1/2 lbs ground beef
1/4 cup bread crumbs or ground oats, gluten free, if needed
1 Tablespoon minced fresh parsley
3/4 teaspoon pepper
1 teaspoon kosher salt
1 large egg
8 oz mozzarella cheese, cut about 1-2 oz. into sixteen approximately half-inch cubes to stuff the meatballs, then shred the rest
1/2 Tablespoon olive oil
Fresh chopped parsley for garnish, optional
For the sauce:
1 3/4 cup beef broth
1/4 cup red wine (I used Pinot Noir, but your favorite red wine will work, or substitute with aditional beef broth)
2 Tablespoons cornstarch
salt & pepper to taste