Chicken Saltimbocca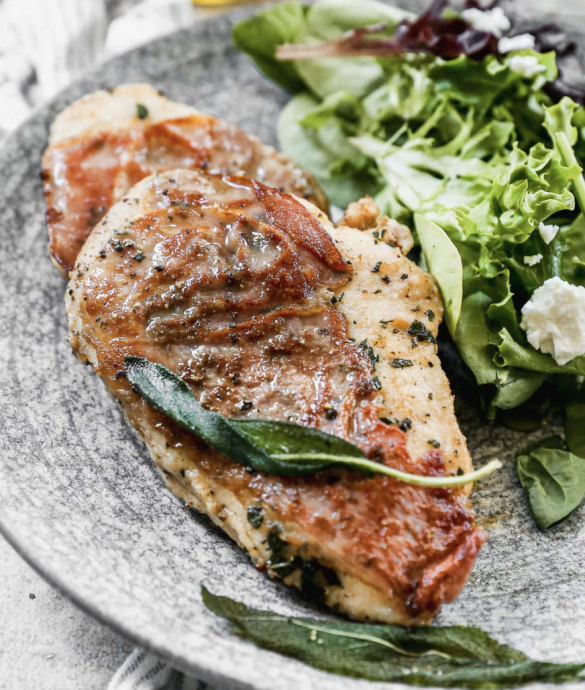 With a name meaning to "jump in the mouth" with flavor, Chicken Saltimbocca is a classic Italian restaurant dish of chicken cutlets wrapped in prosciutto, then pan-fried with sage in an easy pan sauce. Serve it over a bed of garlicky sautéed greens and dinner's ready in less time than it takes to order takeout!
Big Flavors Ahead! Transform ho-hum chicken breasts into something special, courtesy of prosciutto di Parma and a delectable white wine butter sauce. If you love other Italian-American staples like Chicken Piccata, Chicken Marsala, and Chicken Francaise, you'll flip for this chicken saltimbocca recipe!
It's Easier Than You Think (Really). This is a dish that looks like quite the feat to pull off, but I promise it's a cinch to make it at home. You only need 15 minutes of prep time and 15 minutes of cooking for chicken saltimbocca, which means dinner's on the table in just 30 minutes.
Well Plated Tweaks. Obviously, I did not invent chicken saltimbocca! My goal when I share recipes like this one is to find a way to put my own spin on it. Instead of using only whole sage leaves, I added chopped sage to evenly flavor the chicken. I also dredge the chicken before adding the prosciutto instead of after, which helps it stick without toothpicks and gives you crispier ham.
Ingredients
8 chicken breast cutlets or 4 medium chicken breasts, about 2 pounds (see notes)
1 teaspoon kosher salt
1 teaspoon ground black pepper divided
2 tablespoons all-purpose flour
1 1/2 tablespoons minced fresh sage leaves plus 8 (optional) fresh leaves for garnish
8 thin slices prosciutto about 3 ounces
2 tablespoons extra virgin olive oil
3 tablespoons unsalted butter divided
1/2 cup dry white wine or vermouth or additional chicken broth
3/4 cup reduced sodium chicken broth
Pinch red pepper flakes