Disneyland's Pomme Frites Copycat Recipe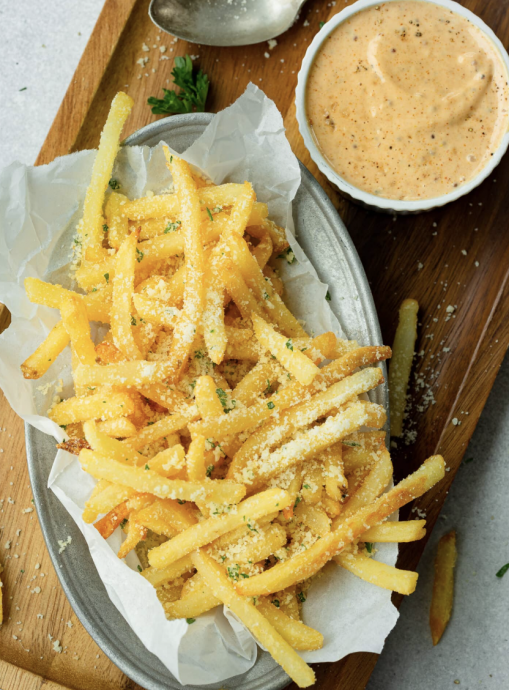 This fabulous dipping sauce Cajun remoulade is boldly flavorful, wonderfully creamy with a bright lemon burst and is the best sauce for dipping these hot and salty Disneyland copycat pomme frites (french fries)!
Have you ever had the pomme frites at Cafe Orleans at Disneyland? Please tell me you have! Hot salty fries are my happiest place on earth. Give me an irresistible sauce to dip them in, and you can forget about it!
We double fry the pomme frites, and then top them Parmesan, garlic (fresh), fresh parsley, salt and a little of the Cajun seasoning.
Ingredients:
For the Cajun Remoulade
3/4 Cup Mayonnaise
1/3 Cup Ketchup
1/2 Tablespoon Worcestershire Sauce
1 teaspoon Creole Mustard, or dijon
1 teaspoon Cajun Seasoning
1/2 teaspoon Smoked Paprika
1/4 teaspoon Garlic Powder
1/2 teaspoon Fresh Lemon Juice, or pickle brine or vinegar
Salt and Pepper, to taste
For the Pomme Frites
5 Russet Potatoes
2 Quarts Vegetable Oil , or peanut oil
1/2 Cup Parmesan, powder
2 Tablespoons Parsley, fresh, minced
4 Cloves Garlic, fresh, crushed
1/4 teaspoon Cajun Seasoning, optional