Teriyaki Salmon Burgers with Sriracha Mayo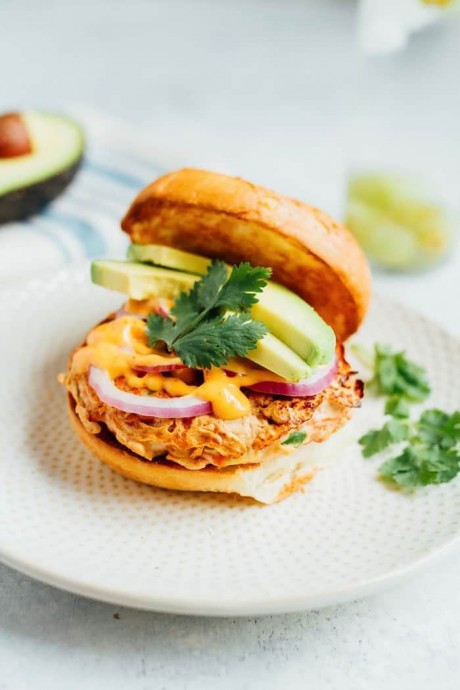 These teriyaki salmon burgers are such a delicious and easy summer meal. Top your burger with Sriracha mayo and avocado slices for added creaminess and a hint of spice! Serve on a bun or lettuce wrap.
If you haven't had a salmon burger before you are certainly missing out because oh my goodness, they are so good — especially with fresh salmon. Canned salmon will likely work, but fresh makes a big difference in the flavor and texture for this recipe.
We used Asian flavors to season the salmon so the burgers have a spiced-up teriyaki vibe going on with tamari, ginger, garlic, Sriracha, honey and sesame oil. I'm not a huge fan of using processed bread crumbs, so I loved that we didn't need any type of filler to hold these burgers together. One egg worked great.
If you do end up making these salmon burgers for a summer party, I highly recommend serving them with homemade sweet potato fries and a fun drink like this grape and lime sparkling water spritzer. It comes together in a matter of minutes with frozen grapes, sparkling water and a lime wedge. Just make sure your grapes are frozen ahead of time!
Ingredients:
1 Tablespoon reduced-sodium tamari (or soy sauce)
1 teaspoon Sriracha
1 teaspoon honey
1 teaspoon toasted sesame oil
1 clove minced garlic
1/2 teaspoon grated fresh ginger
1 pound salmon fillet, skin and bones removed
2 scallions, finely chopped
1 egg, lightly beaten
4 gluten-free burger buns (optional)
3 Tablespoons avocado mayo
1 teaspoon Sriracha
1 avocado, sliced
1/4 red onion, sliced
fresh cilantro, chopped
Kroger or Simple Truth sparkling water (I like the sparkling lime mineral water)
1/2 cup frozen grapes, halved
fresh lime, for garnish