Baked Bunuelos With Anise Filling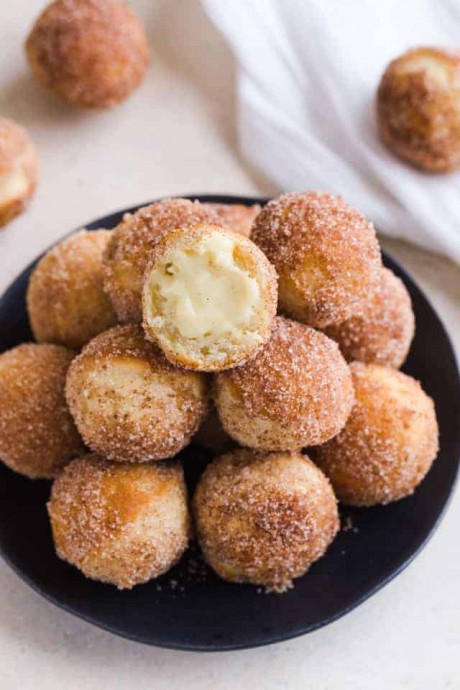 Baked Bunuelos with Anise Filling are a fun spin on the traditional bunuelos found all throughout Spain and Latin America. They consist of balls of dough that are baked instead of fried then filled with anise custard and rolled in cinnamon sugar. Have you ever had bunuelos before? They are a simple dough, most often wheat, that is fried in either a ball or flat disc shape. You can find them all across Spain and Latin America. And each country has its own way of making them.
I'm putting my own spin on bunuelos by making a baked version, filled with an anise custard, and rolled in cinnamon sugar. All the flavors work well together and the cinnamon sugar complements the filling nicely. The anise filling is definitely an interesting one that highlights this ethnic spice that's native to the eastern Mediterranean region and Southwest Asia. The flavor profile of anise seed is similar to star anise, fennel, and licorice. Some people love it while others don't really care for it. You may have some filling leftover depending on how big you make the cavity. You can save the filling and make more bunuelos or use it as a dip for the bunuelos you have.After you fill the bunuelos, brush them with melted butter and roll them in cinnamon sugar. This ties all the flavors together and makes one epic dessert.
Ingredients:
For The Filling
1 Nielsen-Massey Mexican Vanilla Bean
2 teaspoons anise seed
2 cups (480 ml) whole milk
¼ teaspoon Nielsen-Massey Pure Orange Extract
½ cup (100 g) granulated sugar
¼ cup (32 g) cornstarch
1 large egg
3 egg yolks
For The Bunuelos
1 cup (240 ml) whole milk
1 large egg
1 tablespoon Nielsen-Massey Mexican Pure Vanilla Extract
2 cups (260 g) all-purpose flour
2 tablespoons granulated sugar
4 ½ teaspoons baking powder
½ teaspoon salt
¼ cup (56 g) unsalted butter, melted and cooled slightly
For The Cinnamon Sugar Coating
¼ cup (56 g) unsalted butter, melted and cooled slightly
⅓ cup (66 g) granulated sugar
1 teaspoon ground cinnamon