Peppermint Cheesecake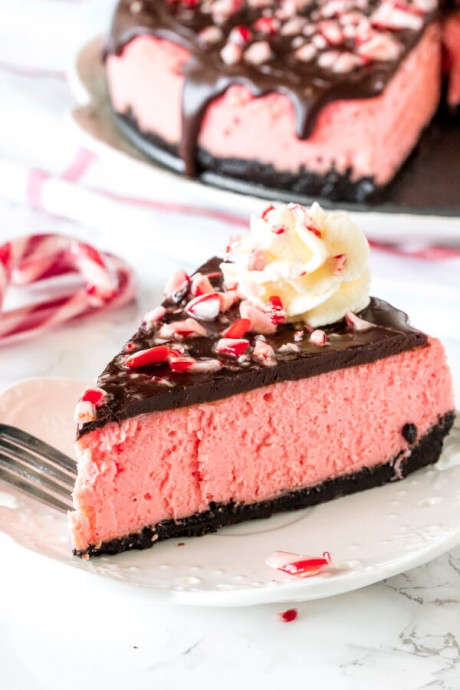 This creamy peppermint cheesecake has an Oreo cookie crust and chocolate ganache topping. The texture is smooth and velvety without being too dense, and the flavor is a delicious creamy peppermint that's perfect for the holidays.
If you're looking for a delicious, original dessert for Christmas – then this peppermint cheesecake is the way to go. It's has a candy cane flavor that's peppermint-y, creamy and tastes delicious with the chocolate ganache on top. The texture is velvety smooth without being too heavy. And I absolutely love the pink color and candy canes on top.
The cheesecake starts with a crunchy Oreo cookie crust. I always use whole Oreo cookies, and pulse them in a food processor to create a fine crumb as opposed to using Oreo baking crumbs. I find the cookies with the filling hold together better. Then they're mixed with melted butter and pressed into the bottom of the pan. I also recommend baking the crust for 10 minutes on its own because it makes the crust crunchier. You could skip this step and just place the crust in the freezer as you make the filling – but I really find that the crust turns out better this way.
This easy candy cane cheesecake is creamy, peppermint-y, and impossible to resist with its Oreo cookie crust and chocolate ganache topping. It's such a beautiful dessert for Christmas, and a super original treat too!
Ingredients:
Oreo Crust
30 Oreo cookies wafers and filling
1/4 cup unsalted butter melted
Cheesecake Filling
24 oz cream cheese full-fat, brick-style
1 cup white sugar
1 tablespoon corn starch or 2 tablespoons all-purpose flour
1 cup sour cream
1-2 teaspoons peppermint extract to taste
2-4 drops red food coloring optional
3 large eggs
Chocolate Ganache
6 oz semi-sweet chocolate* finely chopped
2/3 cup heavy cream
2 crushed candy canes
whipping cream for decorating
For the Waterbath