Fabulous Ranch Green Beans Recipe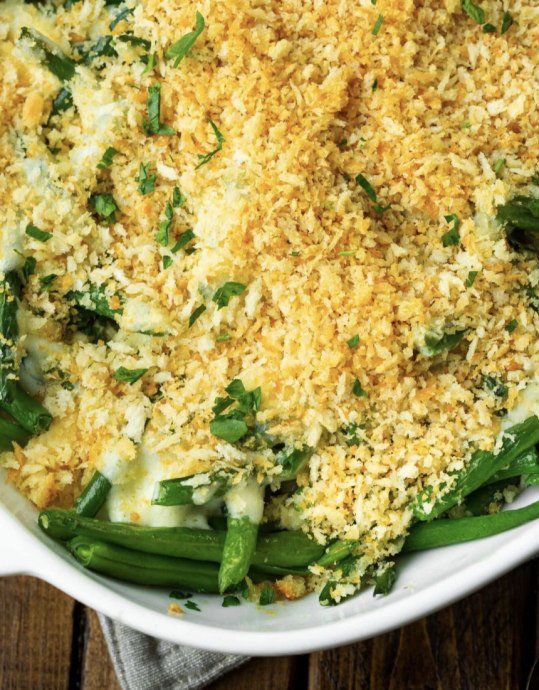 This is a green beans recipe like you've never tasted before and it is FABULOUS! The green beans are creamy and full of that comforting ranch flavor that everyone loves all topped with a crunchy Panko topping. Boom! You're going to love this vegetable side dish!
This green bean casserole recipe will keep in the fridge for 4-5 days. The topping will lose it's crunch within a day or so.
This dish won't freeze well because of the sauce, so it is best eaten within a few days.
To reheat it, you can warm it up in the microwave for a single serving or two. To warm up a large serving, place the green beans in an oven safe dish and heat it in the oven at 350 degrees for 10-15 minutes or until heated through.
Ingredients:
2 lbs Green Beans, fresh, washed and trimmed
1 Tablespoon Olive Oil
2 Tablespoons Shallot, minced
1 Clove Garlic, minced
Salt and Pepper , to taste
For the Sauce
2 Tablespoons Butter
2 Tablespoons Flour
3/4 Cups Ranch Salad Dressing, (trust me on this, make it from the packet, following the directions or buy your favorite ranch then use that. It will taste way better)
1/4 Cup Milk
For the Topping
1 Cup Panko Breadcrumbs
2 Tablespoons Butter, Note: you can use olive oil or I prefer to just hit it with nonstick olive oil spray. It won't brown as much but it's healthier.