Caramel Macchiato Tiramisu Trifle (with Nutella!)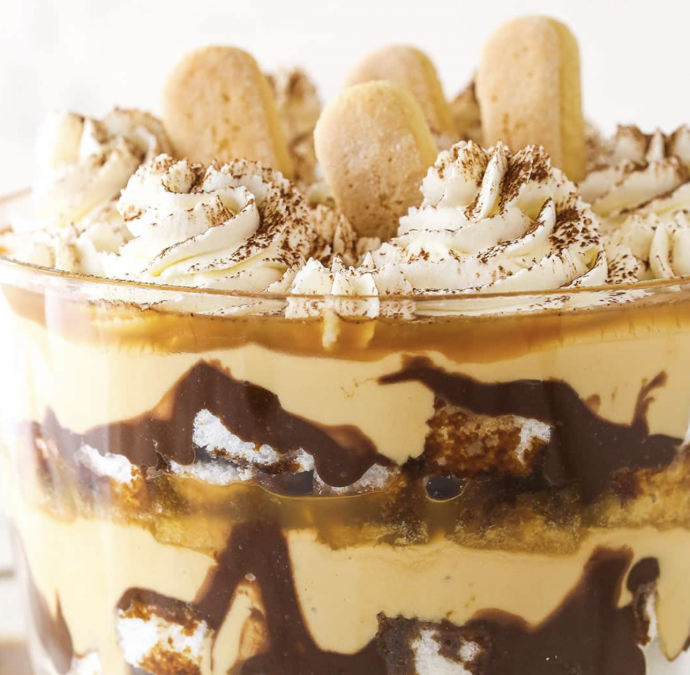 This quick and easy Caramel Macchiato Tiramisu Trifle is made with layers of cubed angel food cake, Nutella ganache, espresso, butterscotch pudding, caramel sauce, and homemade whipped cream. It's the perfect combination of flavors and textures and so delicious!
Now you may be thinking that this one seems a little crazy, but hear me out. Coffee. Nutella. Caramel. What about that could be bad? It seriously combines into one of my favorite desserts. I've made it many times and fall in love with it all over again every time. I absolutely love the way the cake absorbs the coffee flavor. Then it combines with the creamy pudding. Then the Nutella ganache firms up just enough to add a little texture and it's truly my favorite layer. The whole thing is addicting and will fly out of the dish when you serve it. Trust me.
Ingredients:
Espresso Mixture
2 tbsp instant expresso granules
2 tbsp (26g) sugar
1/2 cup (120ml) warm water
Butterscotch Pudding
two 3.4 oz packages butterscotch flavored pudding mix*
4 cups (960ml) milk
Nutella Ganache
1 cup (309g) Nutella
1/4 cup (43g) semi-sweet chocolate chips
1/2 cup (120ml) heavy whipping cream
Whipped Cream
1 1/2 cups (360ml) heavy whipping cream, cold
3/4 cup (86g) powdered sugar
2 tsp vanilla extract
Additional
Angel food cake (about 12 oz), cut into pieces*
1 cup (240ml) caramel sundae syrup