Caramel Apple Cupcakes with Caramel Buttercream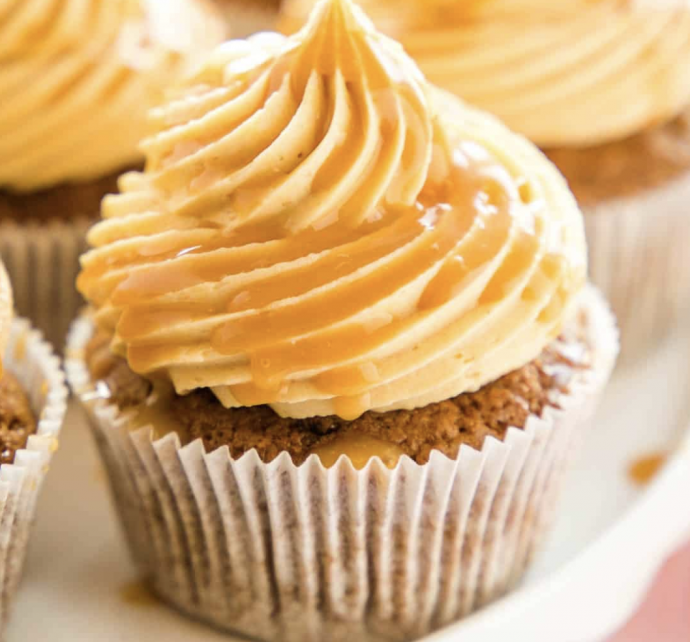 This Caramel Apple Cupcakes recipe is the perfect treat for fall! An apple and spice infused cupcake base with fluffy homemade caramel buttercream frosting!
Cupcakes are cute, the decorating options are endless, and they are a great way to showcase seasonal flavours and themes. We love serving cupcakes to family and friends, especially for events and celebrations. These Caramel Apple Cupcakes are the perfect addition to all your fall or harvest parties!
Ingredients:
FOR THE CUPCAKES:
1/2 cup unsalted butter at room temperature
1 cup brown sugar
3 large eggs at room temperature
1 teaspoon vanilla extract
2 1/4 cups all purpose flour
1 teaspoon baking soda
1/2 teaspoon sea salt
1 teaspoon cinnamon
1/4 teaspoon cloves
1/2 teaspoon freshly grated nutmeg
1/2 teaspoon ground ginger
1 cup milk
2 apples cut into small chunks
FOR THE CARAMEL BUTTERCREAM:
1 cup unsalted butter
3/4 cup thick caramel sauce or dulce de leche divided
4 cups icing sugar
3 tablespoons whole milk
1 pinch sea salt