Creamy Pesto Sauce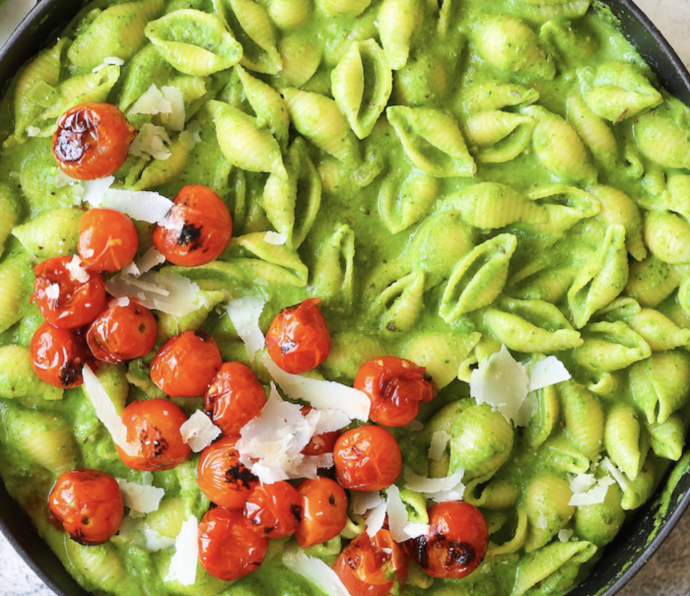 The most epic creamy pesto sauce recipe ever! It's fresh, vibrant, and amazingly creamy. Served with pasta for a quick family favorite meal!
ntroducing a dish that marries the richness of creamy sauces with the vibrant freshness of pesto – Creamy Pesto Shells. This culinary creation is a celebration of contrasts, combining the velvety smoothness of a creamy sauce with the bold and zesty notes of pesto, all enveloping tender pasta shells in a symphony of flavors.
Imagine a forkful of perfectly cooked pasta shells, coated in a luscious sauce that's the embodiment of comfort. The creamy texture embraces each shell, providing a luxurious mouthfeel that's simply irresistible. But the true star of this dish is the pesto – a medley of fresh basil, pine nuts, Parmesan cheese, garlic, and olive oil, all blended into a vibrant green concoction that adds a burst of color and a punch of flavor to every bite.
The Creamy Pesto Shells offer a culinary experience that transcends the ordinary. It's a dish that manages to be both elegant and down-to-earth, making it suitable for a cozy dinner at home or a special occasion with loved ones. The fusion of creamy and pesto elements creates a harmonious balance that appeals to a wide range of palates.
Ingredients
8 ounces medium pasta shells
3 tablespoons olive oil, divided
1 pint cherry tomatoes
Kosher salt and freshly ground black pepper, to taste
½ medium sweet onion, diced
4 cloves garlic, minced
1 teaspoon Italian seasoning
2 tablespoons all-purpose flour
1 cup chicken stock
½ cup heavy cream
1 cup shredded mozzarella cheese
½ cup freshly grated Parmesan
FOR THE PESTO
2 cups packed fresh baby spinach
1 ½ cups broccoli florets
1 ½ cups packed fresh basil
Kosher salt and freshly ground black pepper, to taste
1 cup chicken stock