Garlic Butter Steak And Scallops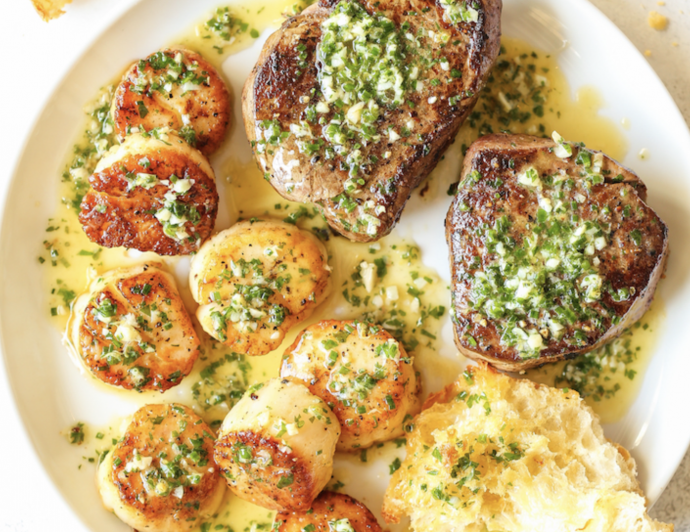 Surf and turf made in less than 30 min! The steak + scallops are so perfectly cooked with the best garlic butter sauce!
As you navigate through the culinary wonders on your quest for the perfect dish, let your senses be captivated by the tantalizing allure of Garlic Butter Steak and Scallops. In just under 30 minutes, this exceptional recipe promises an exquisite surf and turf experience that will leave your taste buds singing with delight.
Picture it: thick and succulent beef tenderloin fillets, seared to an irresistible crust, tenderly meeting the company of plump sea scallops. The true magic, however, resides in the creation of the garlic butter sauce. A symphony of minced garlic, butter cubes, and the vibrant freshness of parsley and chives dances with a touch of lemon juice and zest, elevating the dish to pure elegance.
Ingredients:
2 1 1/2 inch thick beef tenderloin fillets (about 6 to 8 ounces)
Kosher salt and freshly ground black pepper, to taste
3 tablespoons unsalted butter, divided
8-10 large sea scallops
FOR THE GARLIC BUTTER SAUCE
3 cloves garlic, minced
6 tablespoons unsalted butter, cubed
2 tablespoons chopped fresh parsley leaves
2 tablespoons chopped fresh chives
1 tablespoon freshly squeezed lemon juice
2 teaspoons lemon zest
Kosher salt and freshly ground black pepper, to taste