Buffalo Chicken Grilled Cheese Sandwich With Ranch and Blue Cheese Recipe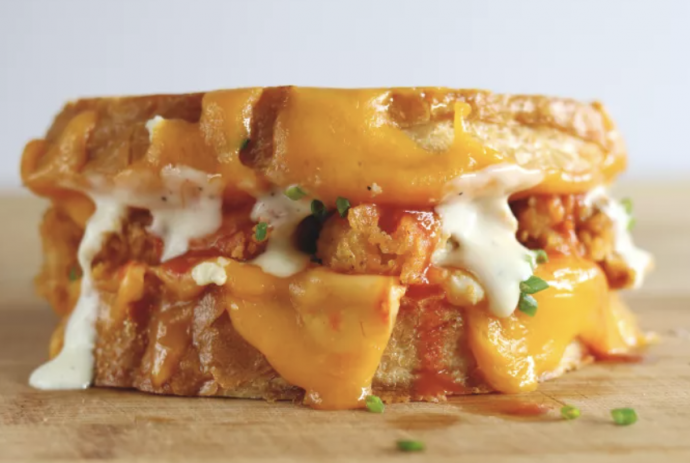 There's nothing quite like crispy pieces of fried chicken tossed in a rich and spicy Buffalo sauce. Add melted cheese, ranch, and crispy, buttery bread to the equation and the results are even more swoon-worthy. You could also try making a buffalo chicken mac and cheese to top your sandwiches instead if you're really looking to spice things up.
And although the origins of the original Buffalo sauce are still being debated, this version takes both accounts into consideration by creating a mashup of the two. It's rich, spicy, and tangy and is the perfect sauce for practically anything.
If you don't eat chicken, don't worry about it—we've got you covered! Instead of chicken, try using crispy oven-roasted Buffalo cauliflower, vegan Buffalo tofu or spicy seitan.
Ingredients
For The Buffalo Sauce:
1/2 cup Frank's Red Hot Sauce
1/2 cup (8 tablespoons) unsalted butter
1 tablespoon white vinegar
1 dash cayenne
1 dash garlic powder
1 dash celery salt
2 dashes Worcestershire sauce
For the Sandwich:
2 thick slices French bread
1/2 cup shredded sharp cheddar cheese
1/2 cup chicken fingers, coarsely chopped
1 tablespoon buttermilk ranch dressing
1 tablespoon buffalo sauce
1 tablespoon crumbled blue cheese
1/4 teaspoon finely sliced chives
2 tablespoons salted butter