Savory Dutch Baby With Boursin and Peas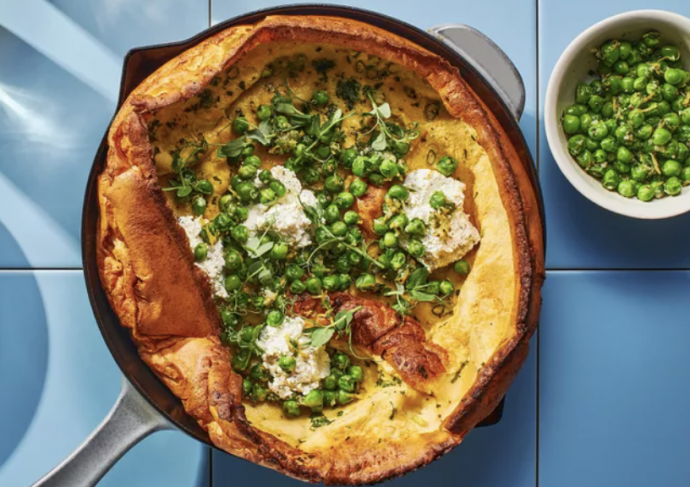 Unlike American pancakes, Dutch babies are more like a cross between a soufflé and Yorkshire pudding. The batter is baked in a buttered cast-iron skillet yielding a fluffy and billowy, yet lightly crispy pancake.
The majority of Dutch babies are served sweet topped with things like fruit, sugar, or cream. Here I make a savory Dutch baby with one of my favorite cheeses, Boursin (garlic and herb flavor is my favorite but really any of them would work), and buttery, herby English peas.
What to Serve with This Dutch Baby
Pair your savory Dutch baby with the perfect brunch mimosa and make some other essential brunch recipes to go with it.
Recipe Tips
If you don't have a cast-iron pan you can use any skillet that is safe to put in the oven, but it may not puff or come out as nice.
If you don't have a blender you can whisk everything together by hand.
Make Ahead
The batter can be made up to 3 days in advance and stored in an airtight container or jar in the fridge. Remove the batter from the fridge at least 30 minutes before using it to bring it to room temperature, and give it a little whisk before using.
Ingredients:
For the Pancake
3 large eggs
3/4 cup whole milk
2/3 cup (80 grams) all-purpose flour
2 tablespoons unsalted butter, melted
1/2 teaspoon fine salt
1/2 teaspoon ground black pepper
2 tablespoons unsalted butter
2 teaspoons finely chopped fresh Italian parsley
2 teaspoons finely chopped scallions
For the Peas
1 tablespoon unsalted butter
1 tablespoon extra-virgin olive oil
1 cup fresh English peas
2 cloves garlic, minced
1 1/2 tablespoons finely chopped scallions
1/2 cup water
1 1/2 tablespoons finely chopped fresh Italian parsley
1/4 teaspoon fine salt
1/2 teaspoon ground black pepper
Finely grated zest of 1 lemon
To Finish
1 puck (5.2 ounces) Boursin cheese
1 tablespoon