Cheese & Bacon Strata Cake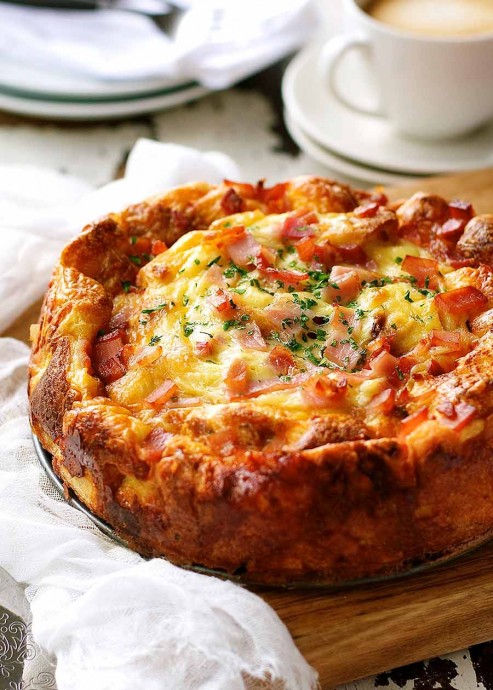 A Breakfast Casserole – in cake form! All the morning essentials present – bacon, eggs, milk, bread and cheese – it's a breakfast strata that tastes like a cross between quiche, omelette and savoury French toast with cheesy custardy insides, and a golden crusty surface. Excellent way to make use of leftover bread. Make it now or leave it overnight, then just pop it in the oven the next day! Being completely upfront – this is not a real dish as such, it's just something I made up on a whim back when I first published it over 5 years ago as a way to make breakfast for a group without frying up individual bacon and eggs for everyone.
It's essentially a breakfast casserole or a savoury bread and butter pudding, made with bread soaked in eggs and milk, scattered with cheese and bacon, then baked until golden on the surface, custardy and cheesy on the inside. And rather than baking it the traditional way in a casserole dish, I've used a cake pan – so you also get golden sides and the fun factor of being able to serve slices of it like cake! The smell when this is baking is mouth-watering! It smells like a Quiche Lorraine, and though admittedly it looks a lot more rustic than a quiche, it is a whole lot less effort to put together!!
Ingredients:
300g / 10 oz bacon , diced (or ham)
6 large eggs
1 1/4 cups milk (full cream or low fat)
1/4 tsp salt
Black pepper
7 cups (packed) any plain bread (I use baguettes) , cut into 2 cm / 1 inch cubes (preferably slightly stale, Note 1)
2 cups cheese , shredded
parsley , finely chopped