Chocolate Sandwich Cookies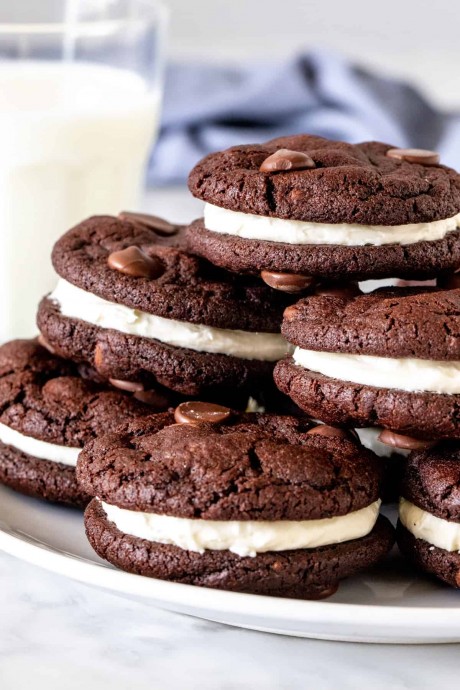 These chocolate sandwich cookies are next level delicious. They have two chewy, fudgy double chocolate cookies with sweet and creamy frosting in the middle. Like an extra decadent, homemade Oreo cookie! There's nothing better than a soft, decadent double chocolate cookie. Every year or so I make a new variation on my favorite recipe – so today, we're making chocolate sandwich cookies. They're chewy, fudgy, extra rich and filled with sweet buttercream frosting.
I debated calling this recipe "homemade Oreos" – but that would be a disservice to these cookies. Don't get me wrong, I love Oreos. But these sandwich cookies are an elevated, more grown-up version. Instead of a dry, crunchy chocolate wafers, we're making soft, chewy, fudgy chocolate cookies.
They're made with cocoa powder for a rich chocolate flavor, and just the right amount of flour so that they stay soft. In this recipe, you'll chill the cookie dough in the fridge before baking. This creates thicker, chewier cookies. We're also adding in chocolate chips for obvious reasons.
The filling is a simple buttercream frosting. Thick, creamy and way more decadent than the icing in a store-bought cookie. If you prefer chocolate frosting, then I'd recommend this recipe. Or even cream cheese frosting is delicious too.
Ingredients:
Chocolate Cookies
1 cup all-purpose flour
2/3 cup cocoa powder
1/2 teaspoon baking soda
1/4 teaspoon salt
10 tablespoons unsalted butter softened (not melted)
2/3 cup lightly packed brown sugar light or dark
1/3 cup white sugar
1 large egg
1 teaspoon vanilla extract
3/4 cup chocolate chips I recommend semi-sweet or dark
Vanilla Frosting
1/2 cup unsalted butter softened
1 1/2 - 2 cups powdered sugar
1/4 teaspoon salt
1-2 tablespoons cream or milk