Neapolitan Fudge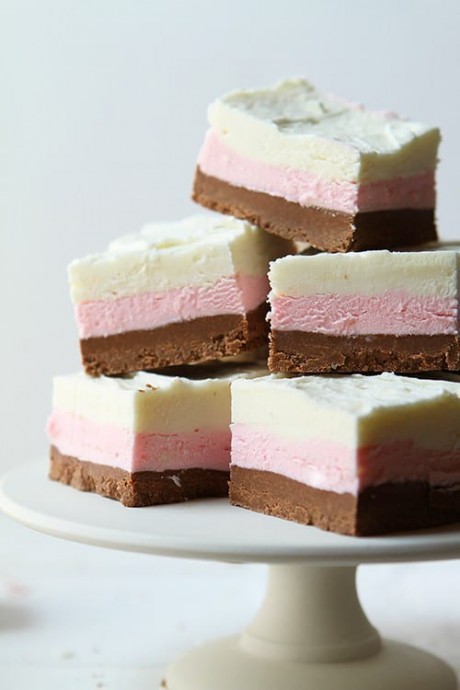 Layers of chocolate, vanilla, and strawberry make this Neapolitan Fudge a knockout treat when it comes to dessert! White chocolate and creamy condensed milk make an easy fudge base, before being divided into three and flavored with chocolate, strawberry or vanilla and layered up for a super pretty sweet treat.
Love this flavor combo? Make a batch of this easy Neapolitan Popcorn to go along with the fudge. They would be so pretty for baby showers and little girls parties.
Whatever the occasion this super simple fudge is creamy and delicious. This sensational Neapolitan Fudge Recipe will brighten up your dessert table and is sure to become a new family favorite. We guarantee that you won't be disappointed. This colorful creation is sure to indulge anyone's sweet tooth and it's perfect for parties. Be sure to use quality chocolate for this recipe. It really does make all the difference.
Ingredients:
CHOCOLATE LAYER
1/2 pkg 4 ounces cream cheese, softened
1 1/2 c confectioners' sugar
8 oz milk chocolate melted and cooled
RASPBERRY LAYER
1/2 pkg 4 ounces cream cheese, softened
1 1/2 c confectioners' sugar
8 oz white baking chocolate melted and cooled
1 tbsp. McCormick Raspberry Extract
2 drops red gel food coloring optional
VANILLA LAYER
1/2 pkg 4 ounces cream cheese, softened
1 1/2 c confectioners' sugar
8 oz white baking chocolate melted an