Fried Banana Bites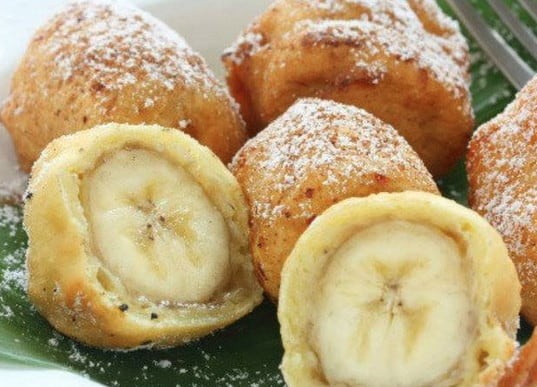 Here's one for the Banana lovers! This Fried Banana Bites Recipe is a taste sensation and a real crowd pleaser everyone will go crazy for! If you are yet to discover this Fried Banana Bites Recipe, now its time to try it.
They're quick, easy, and inexpensive to make and they taste great! Serve them as a snack or with ice cream. They are as good as those you find at the local Chinese Restaurant and now you can make them at home. You can use a deep fryer or a saucepan. Combine your batter ingredients, whisk until combined. Add cinnamon and flour and salt. Mix through until completely combined. Cut your banana up into bite-size pieces and cover in the batter.
You can also sprinkle cinnamon sugar on them while they are still hot. Let them cool slightly before eating as you could burn the roof of your mouth. They're great with ice cream too. The best way to describe the taste is like a hot banana donut!
Ingredients:
2 eggs
1/2 cup milk
2 Tablespoons oil
1 cup self-raising flour
1 teaspoon sugar
1/2 teaspoon salt
1 Tablespoon ground cinnamon
up to 5 bananas
Icing sugar or Powdered Sugar