Peanut Curry Lentil Soup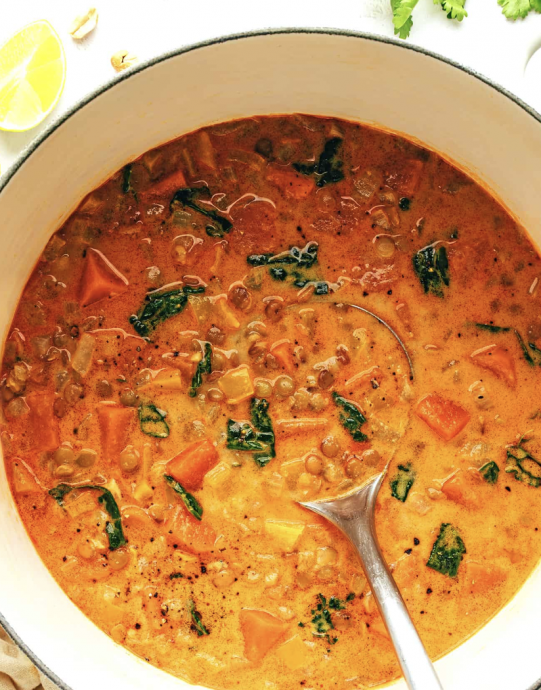 This peanut curry lentil soup recipe is full of feel-good ingredients and features the coziest blend of sweet, savory, spicy flavors.
It's one of those recipes that magically seems to hit every flavor note, and tastes wonderfully hearty and rich without being too heavy. It comes together easily with minimal chopping time and a simple simmer on the stovetop. It's naturally gluten-free and vegan, although you're welcome to add in an extra protein (such as chicken, beef or tofu) if you'd like. And leftovers arguably taste even better the next day, so be sure and tupper-up any extras for lunch tomorrow.
Ingredients:
1 tablespoon olive oil
1 medium yellow onion, diced
1 yellow bell pepper, diced
4 cloves garlic, minced
5 to 6 cups vegetable broth
1 1/4 pounds sweet potatoes, peeled and diced into ¾-inch cubes
3/4 cup brown lentils
2 tablespoons Thai red curry paste
1 (15-ounce) can full-fat coconut milk
2 cups chopped fresh kale
2 tablespoons natural creamy peanut butter
2 tablespoons lime juice (approximately 1 lime)
fine sea salt and freshly-ground black pepper
toppings: chopped fresh cilantro and finely-chopped peanuts