Vegan Chickpea Patties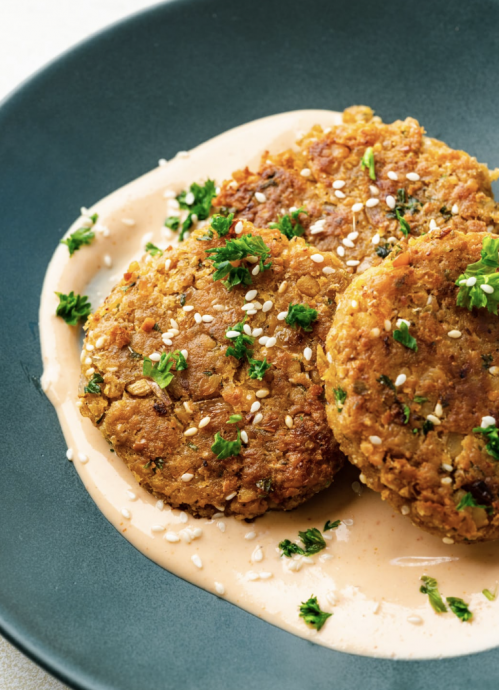 These pan-fried Vegan Chickpea Patties are crispy on the outside, fluffy on the inside and packed with flavor! They're great on their own with a spicy tahini sauce, or in sandwiches, wraps, salads and more.
Pulsing chickpeas in a food processor results in a super fluffy and easily shapeable base for these chickpea patties. We added cumin, coriander, paprika, and oregano alongside some shallots and lemon zest, resulting in a protein- and flavor-packed dish.
These vegan chickpea patties are perfect for a weeknight dinner, because they're pretty easy, filling, and versatile. You can pair them with buns to make chickpea sliders/burgers, break them into pieces as a salad topper, or serve them inside a pita alongside some tomatoes, cucumber, hummus and tzatziki for a delicious wrap.
Ingredients:
2 15 ounce cans chickpeas, drained (reserve liquid - see below)
4 tablespoons of aquafaba (liquid from can of chickpeas)
4 tablespoons olive oil, divided
⅔ cup minced shallot or yellow onion
1 tablespoon minced garlic
½ cup all purpose flour (use gluten free if needed)
½ cup plain bread crumbs (use gluten free if needed)
3 teaspoons dried oregano
2 teaspoons kosher salt
1 ½ teaspoons cumin
1 ½ teaspoon coriander
1 teaspoon paprika
½ teaspoon black pepper
3 tablespoons chopped parsley
2 tablespoons freshly squeezed lemon juice
1 tablespoon lemon zest
2 tablespoons sesame seeds (optional)