Butterscotch Blondies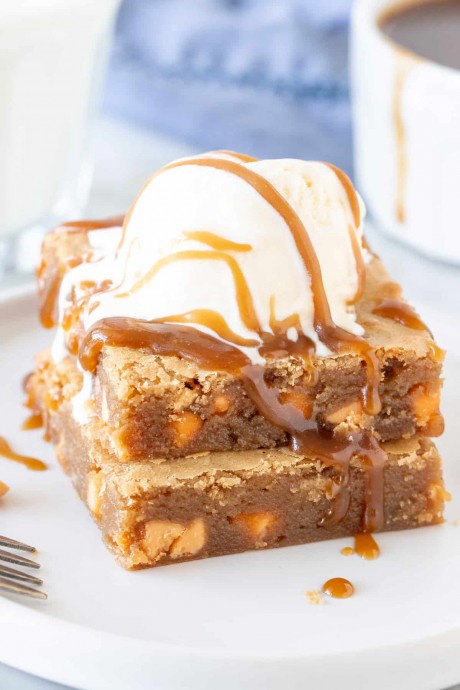 These butterscotch blondies have a rich butterscotch taste and are filled with butterscotch chips. They're dense, chewy, fudgy and made in one bowl with no mixer. You can think of them as butterscotch brownies with deliciously gooey centers.
I decided to tinker with my favorite blondie recipe to get the ultimate butterscotch flavor in blondie form. They're chewy and a little gooey with a sweet, buttery flavor. They're big on butterscotch taste and filled with butterscotch chips. If you want to take it up a notch, adding a scoop of ice cream and a drizzle of butterscotch sauce really makes them next level.
These blondies are very sweet and very addictive – be warned!
Brown sugar gives you a deep color and flavor. Brown sugar is actually what differentiates butterscotch from caramel – so make sure not to substitute it. Then the vanilla and salt balance off the sweetness to give that perfect butterscotchiness that doesn't taste artificial.
What's even better about these butterscotch blondies is that they're so easy to make. Simply melt the butter, then whisk in the sugar. Stir in the egg and vanilla, and fold in your dry ingredients and butterscotch chips. Your blondies will be baking in no time and filling your kitchen with delicious smells.
Ingredients:
1/2 cup unsalted butter melted
1 cup brown sugar* packed
1 large egg room temperature
1 tablespoon vanilla extract*
1 cup plus 2 tablespoons all-purpose flour spooned and leveled
1/4 teaspoon coarse salt
3/4 cup butterscotch chips