Mediterranean Quinoa Bowls with Roasted Red Pepper Sauce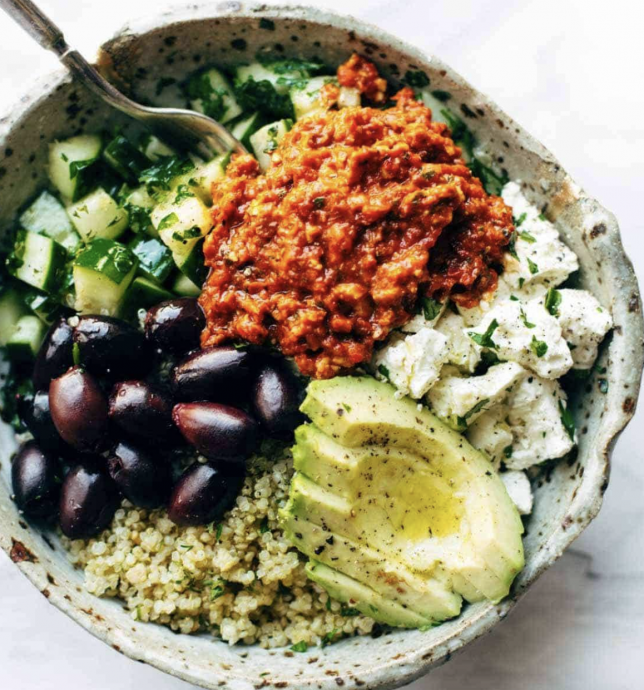 This is the recipe that I've been eating for the last week and a half to keep myself eating something of nutritional value that actually tastes good to my mouth during this crazy End-of-December season. AND it's the recipe that I am going to leave you with as we transition right into a lil' break for Christmas!
For those of us who love Mediterranean flavors, the recipe/concept is salty and slightly acidic and bright and fresh, just like any good Greek-type salad bowl situation should be. FEEL THE LOVE, guys. You just sit right on back and feel the love.
This filling rainbow bowl is a mish-mash of quinoa, cucumbers or kale or spinach (fresh or sautéed – we've done all combinations and types of greens at our house), feta cheese, kalamata olives, pepperoncini eaten straight out of the jar because they are so salty and delicious.
Ingredients:
Roasted Red Pepper Sauce:
1 16 ounce jar roasted red peppers, drained (or roast your own red peppers and win the food game!)
1 clove garlic
1/2 teaspoon salt (more to taste)
juice of one lemon
1/2 cup olive oil
1/2 cup almonds
For the Mediterranean Bowls (build your own bowls based on what you like)
cooked quinoa
spinach, kale, or cucumber
feta cheese
kalamata olives
pepperoncini
thinly sliced red onion
hummus
fresh basil or parsley
olive oil, lemon juice, salt, pepper