Homemade Blueberry Toaster Strudels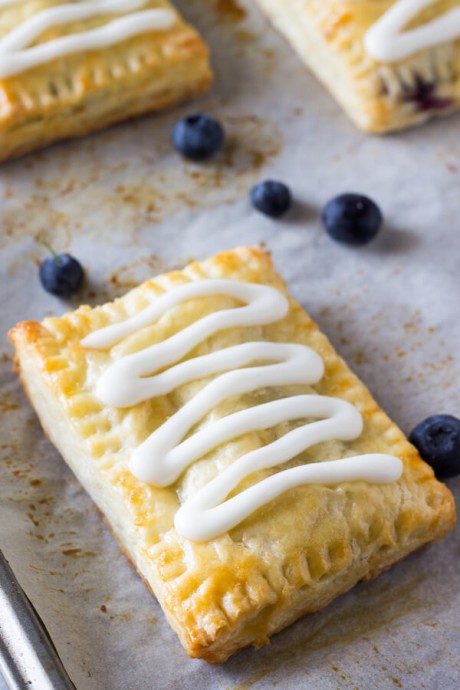 Buttery, flaky homemade blueberry toaster strudels with juicy blueberry centers and sweet vanilla glaze. 1000 times better than the store bought variety!
As a child, my parents firmly believed that breakfast should fuel your body with nutrients – not sugar. And in no way should the most important meal of the day come out of a prepackaged box and plastic wrapper. So just like dunkaroos and fruit rollups – Blueberry Toaster Strudels were an elusive treat I'd stare at through the frosty windows of the grocery store deep freeze aisle. Making these homemade blueberry toaster strudels isn't super difficult, but there are quite a few steps and its really important to follow the process carefully and not cut corners. So in addition to the recipe below, I've written out the instructions in detail with the explanation. First you'll make the pastry. For this recipe we're using a homemade cream cheese pie crust. It's ridiculously flaky, tender and way more forgiving than traditional all butter pie crust. First we'll whisk together the flour, salt & a little sugar; then we cut in the cold butter and cream cheese using a pastry cutter. At the end we'll add in whipped cream. After making the pastry you'll form it into two round discs, wrap each in clingfilm and chill the dough in the refrigerator for at least 1 hour.
It's absolutely imperative that you use cold butter & cream cheese when making the pastry, and chill the dough between each step. Cold butter releases steam when it bakes which creates air pockets. And these pockets of air are what leads to super flaky pastry. These blueberry strudels have a delicious, buttery, flaky pastry; juicy blueberry centers; perfectly golden edges; and a sweet vanilla glaze for the perfect breakfast pastry. They're seriously divine and the perfect pastry for breakfast, brunch, coffee or dessert.
Ingredients:
2 cups and 1/2 all-purpose flour careful not to overmeasure, 312 g
2 tablespoons granulated sugar
1/2 teaspoon coars salt
1 cup cold unsalted butter 227 g
1 cup cold brick-style cream cheese 227 g
6 tablespoons cold whipping cream
1 large egg
2 teaspoons milk
thick blueberry preserves or jam
3 tablespoons whipped cream or milk
3/4 cup to 1 cup powdered/icing sugar sifted, 95 g to 125g
1/2 teaspoon vanilla