Cherry Chocolate Cream Cheese Bundt Cake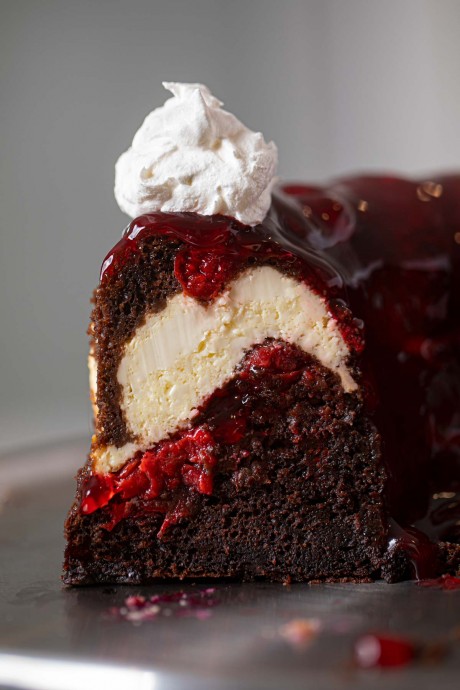 Cherry Chocolate Cream Cheese Bundt Cake is a rich, moist, chocolate cake with cherries filled with cream cheese for the ULTIMATE chocolate cherry dessert!
One of the most popular chocolate Dessert Recipes on the site is our Triple Chocolate Bundt Cake because it's so rich, moist and delicious. This Cherry Chocolate Cake takes that chocolate cake base and adds a cheesecake filling and cherries to make the best chocolate cake ever. Yes, that was some internet yelling because the cake is that delicious.
Chocolate cake and cheesecake seem like a match made in heaven. Cheesecake and Cherry Pie filling are a classic combination we all know are a match made in heaven. So this recipe is basically the best of both worlds baked into one delightfully almost overfilled bundt cake.
You will not be disappointed in this cake, it is moist, rich, it has a creamy and tangy New York style Cheesecake filling. And with one can of cherry pie filling used creatively we have a fruit filling and a cake glaze all in one.
The directions may seem daunting. This is because you're making a cake and a cheesecake in one recipe. But from start to finish I had this cake in the oven in under 30 minutes.
The extra ingredients and the extra steps are totally worth it!
Ingredients:
2 cups flour
2 cups sugar
3/4 cup cocoa powder
2 teaspoons baking soda
1 teaspoon baking powder
1 teaspoon salt
1/2 cup sour cream
1/2 cup vegetable oil
2 large eggs
2 teaspoons pure vanilla extract
1 cup freshly brewed hot coffee
16 ounces cream cheese
1 large egg
1/2 cup sugar
2 teaspoons vanilla extract
1 can (21 ounces) cherry pie filling