Blueberry Cake with Lemon Frosting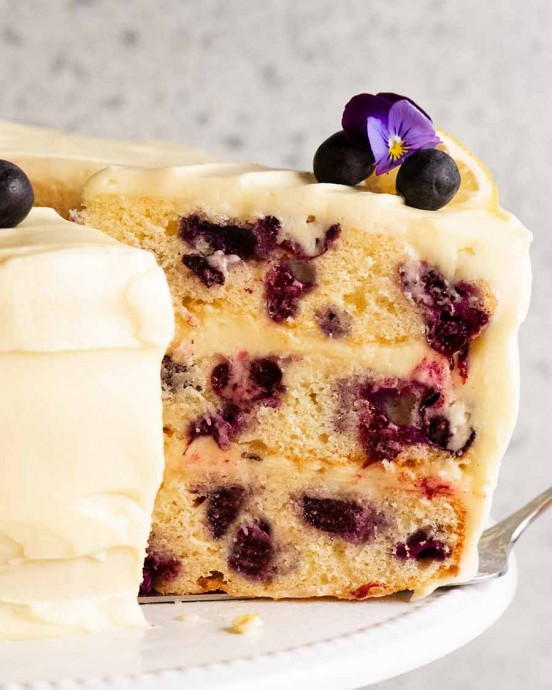 This Blueberry Cake looks completely unassuming until you pull a slice out… then eyes go wide at the sight of the layers dotted with vibrant pops of blueberries sandwiched with the creamy Lemon Cream Cheese Frosting. Then just wait until you taste it! It's ridiculously good!
When time is of the essence, we make a quick wooden-spoon-mixed Lemon Blueberry Yogurt Cake. But when you want to make a cake to impress, we make THIS Blueberry Cake! It is a complete and utter celebration of blueberries, bundled up in a combination that can't be beat. A lemon infused plush cake adapted from this Vanilla Cake, which in itself has amassed a loyal following from all around the world. Juicy pops of blueberry littered throughout. And that fluffy creamy Lemon Cream Cheese Frosting. Words fail me. It's just to-die-for!!
Adapted from my Vanilla Cake, the crumb is soft and plush, infused with a subtle hint of lemon which goes so well with blueberries. The slight tang of cream cheese frosting is a perfect match for this cake and takes it over the top.
Stays fresh for 5 whole days!
Ingredients:
2 cups flour , plain / all purpose
2 1/2 teaspoons baking powder (make sure its still good)
1/4 tsp salt
4 large eggs (50-55g / 2oz each), at room temp
1 1/2 cups sugar , caster / superfine
115g / 1/2 cup unsalted butter , melted & HOT
1 cup sour cream , full fat, at room temperature
3 tsp vanilla extract
3 tsp vegetable or canola oil
3 tsp lemon zest
375g / 2 1/2 cups blueberries
2 tsp flour
225g / 2 sticks unsalted butter , at room temperature
250g / 8oz cream cheese , brick not tub, at room temperature but not too soft (Note 8)
4 cups (500g) soft icing sugar / powdered sugar ,
1 tsp vanilla extract
2 tbsp lemon juice
Pinch of salt
Extra blueberries, lemon slices, edible flowers