Butternut Squash Lasagna Recipe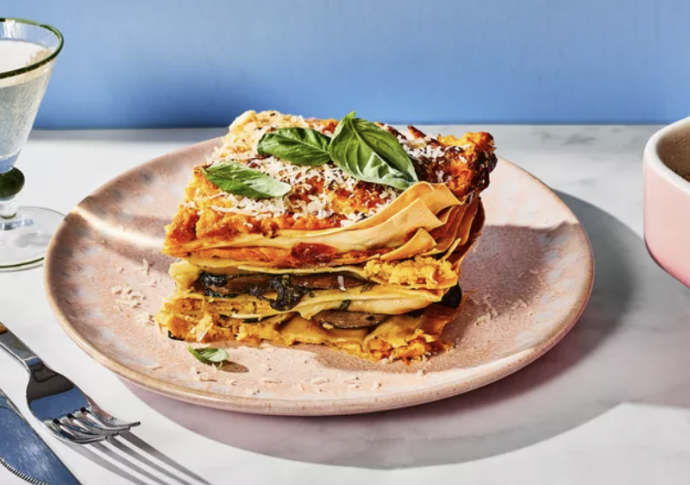 This butternut squash lasagna is a delicious meat-free, cheesy vegetable lasagna that will please even the most discerning diners.
Roasted butternut squash, ricotta, and Parmesan cheese are the building blocks of the sauce mixture, while mushrooms and spinach add texture and flavor. The layers come together with a generous amount of mozzarella cheese. Butternut squash lasagna is the perfect fall meal, and it's a great option for a vegetarian Thanksgiving dish.
A dash of nutmeg in the sauce and some dried Italian seasoning are added to the layers, but feel free to use another herb mixture. Instead of Italian seasoning, add dried rubbed sage, which complements butternut squash nicely, or use a combination of sage, thyme, and chives.
Ingredients
8 cups cubed butternut squash (from a 2 1/2 to 3-pound squash)
3 tablespoons extra-virgin olive oil, divided
1/2 teaspoon salt, divided
1/2 teaspoon ground black pepper, divided
1 cup whole milk ricotta cheese
3/4 cup grated Parmesan cheese, divided
1/2 cup milk, or more, as needed
1 teaspoon grated nutmeg
12 to 16lasagna noodles
8 to 12 ounces mushrooms, cleaned and sliced (like portobello, button, or cremini)
4 medium garlic cloves, minced or grated
10 ounces baby spinach leaves
3 cups shredded mozzarella cheese, divided
3/4 teaspoon Italian seasoning
Fresh basil leaves and Parmesan cheese, for garnish