Twice-Baked Potato Casserole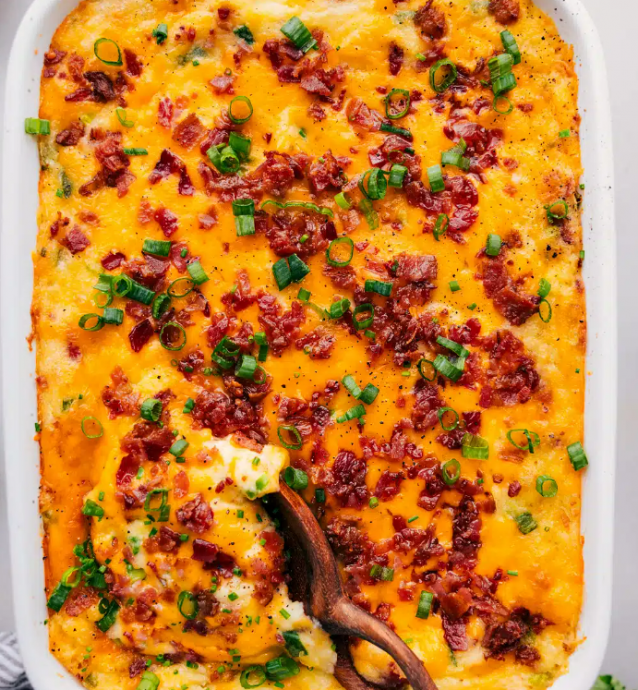 Twice-Baked Potato Casserole is a creamy blend of potatoes bursting with rich flavors of sharp Cheddar, crispy bacon, and a hint of garlic, all topped off with a sprinkle of fresh green onions. It's comfort food taken to the next level!
Ingredients:
Enjoy the delightful balance of sweet and savory flavors with our scrumptious Teriyaki Salmon. This mouthwatering dish isn't just a treat for your taste buds; it's also a savior on busy weeknights when you're in need of a fast and flavorful dinner. Plus, it's perfect for entertaining guests without breaking a sweat.
Recipe Overview
What Makes It Special: Teriyaki salmon is known for its exquisite blend of sweet and savory flavors, creating a taste sensation that's simply irresistible.
Time in the Kitchen: The best part? You can whip up this fantastic meal in less than 30 minutes. So, whether you're in a rush to get dinner on the table or looking to impress your dinner guests, this recipe has you covered.
Tools of the Trade: You'll need an oven-proof skillet to create this culinary masterpiece.
Serves: The recipe yields four delectable salmon fillets, making it a fantastic option for a family dinner or an intimate gathering with friends.
Ingredients:
4 salmon fillets (for a serving of four)
1/4 cup soy sauce
1/4 cup mirin
2 tablespoons sake
1/4 cup brown sugar
2 cloves garlic, minced
1 teaspoon grated fresh ginger
1 tablespoon cornstarch
2 tablespoons water
Optional garnish: sliced green onions and sesame seeds