Baked Beans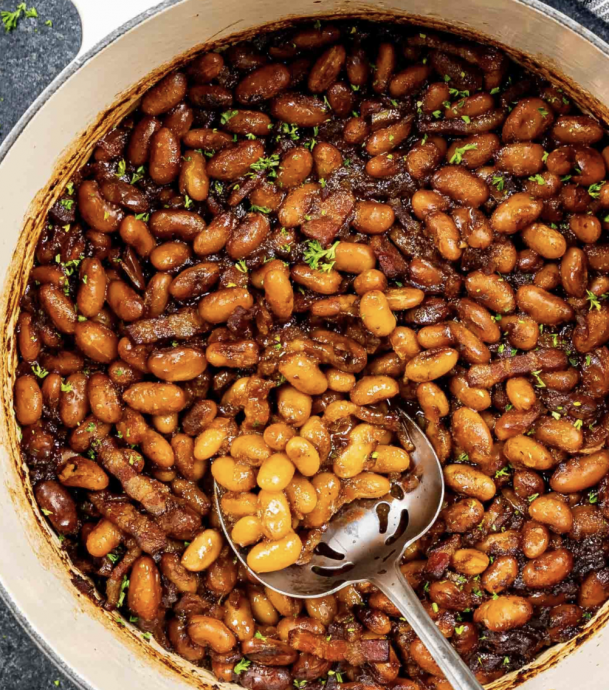 Slow-baked tender homemade baked beans are a timeless classic that never goes out of style! But no store-bought canned baked beans will ever compare to making them yourself. You can't get the same creamy caramelized bean texture and delectable sweet and tangy spiced sauce from a can.
There's nothing quite like the familiar comfort of a classic Baked Beans recipe. This cherished family favorite has been pleasing palates for generations with its perfect blend of tender beans, rich molasses, and smoky bacon. It's like a warm, delicious hug in a bowl, a dish that exudes warmth and nostalgia. With just a handful of simple ingredients and a little time, you can create a flavor-packed side dish that's a cut above canned alternatives. These baked beans are creamy, sweet, and tangy, making them the perfect accompaniment to meats like ribs and BBQ chicken or even as a main dish paired with corn fritters.
Here's what you'll need to make this delightful classic:
Ingredients:
Canned Beans: Great Northern beans or navy beans form the base of the dish. You can also use other types of beans like black beans or pinto beans if you like.
Onion: Chopped onion adds an aromatic and savory element.
Molasses: Contributes a robust sweetness and layer of complex flavor. You can also use honey or maple syrup.
Brown Sugar: Provides sweetness and helps to caramelize the beans.
Ketchup: Adds tanginess and depth of flavor to the dish.
Yellow Mustard: Contributes a slightly pungent taste that cuts through the sweetness. You can also use Dijon mustard.
Seasonings: Salt and black pepper enhance the overall taste and balance the flavors.
Spices: Ground cloves and allspice bring warm and spicy undertones, which add depth to the dish.
Thick-Cut Bacon: Bacon just makes everything better! It infuses the beans with a smoky and savory flavor.