Easy Taco Salad With Ground Beef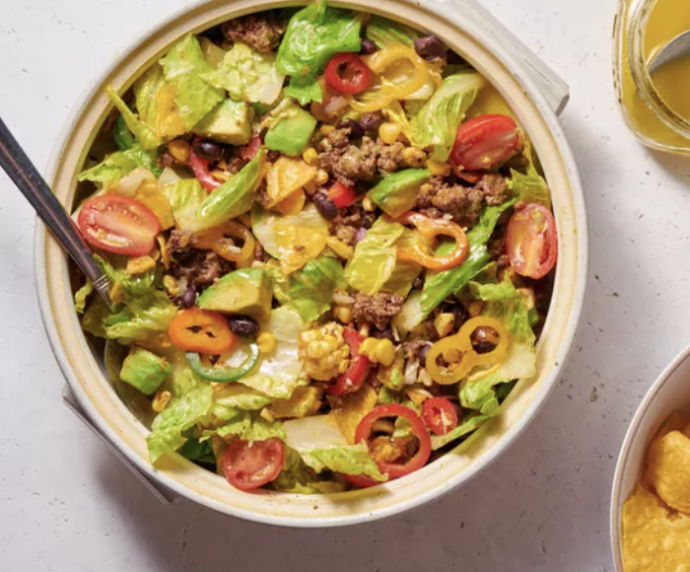 With only 15 minutes of prep, taco salad is a fantastic weeknight option or an easy dish to meal prep. First, we blacken corn kernels in a skillet. Then, in the same skillet, we brown the ground beef and add taco seasoning for flavor.
The dressing is shaken up in a jar (this saves an extra bowl from getting dirty) and then it's all just tossing and serving.
Taco salads vary, and you can take a lot of creative license with the ingredients you choose to add or omit. But our taco salad includes ground beef flavored with taco seasoning, charred corn, romaine lettuce, black beans, peppers, tomatoes, cheese, tortilla chips, onion, and avocado.
To liven up this mix, we whip up a simple lime and honey dressing, but you can substitute another dressing, prepared or homemade. Catalina dressing, Thousand Island, or ranch dressing are all good options.
Ingredients:
For the Salad
1 cup fresh corn kernels (from 2 ears of corn), or drained canned corn kernels
1 teaspoon canola oil
1 pound ground beef (preferably 85/15)
1 (1-ounce) envelope taco seasoning mix
2 romaine lettuce hearts, coarsely chopped (about 7 cups)
1 (15-ounce) can black beans, drained and rinsed
3 sweet mini peppers, thinly sliced into rounds (about 1 cup)
1 cup quartered cherry tomatoes
3/4 cup (3 ounces) pre-shredded Mexican 3-cheese blend
3/4 cup coarsely crushed tortilla chips
1/2 cup finely chopped red onion
1 small jalapeño pepper, thinly sliced, optional
1 ripe avocado, pitted and chopped
For the Dressing
1/2 cup olive or avocado oil
1/4 cup fresh lime juice (from 2 limes)
1 tablespoon honey
1/4 teaspoon fine salt