Sweet And Sour Pork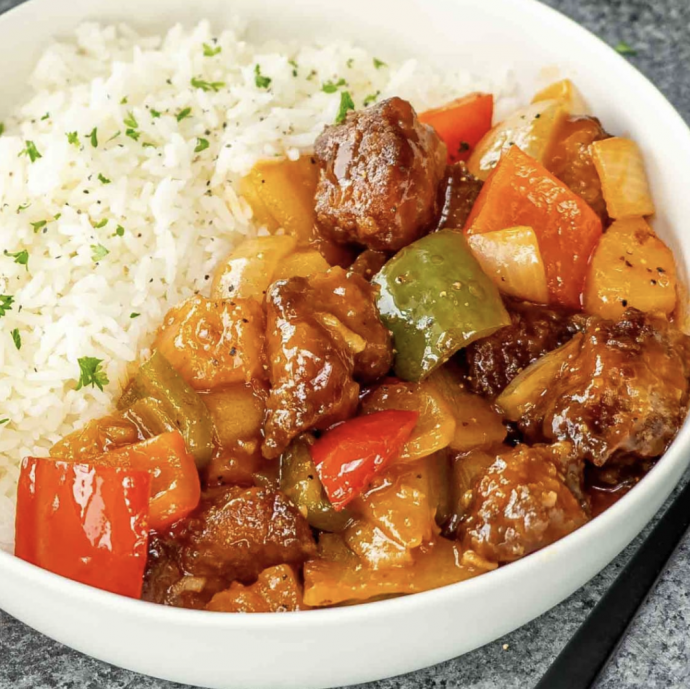 Sweet and Sour Pork takes your taste buds on a tasty adventure, enveloped in a crispy golden embrace! Featuring perfectly fried, tender pork, colorful bell peppers, and pineapple coated in a delicious sweet and tangy sauce, this popular takeout classic never fails to please!
Ingredients:
Pork Marinade And Dredging
Pork: I used pork shoulder, which is a tender and flavorful cut perfect for this dish. You can also use pork tenderloin or pork loin if you prefer.
Baking Soda: Helps to tenderize the pork as it marinates.
Fresh Ginger: Provides an aromatic and zesty kick.
Soy Sauce: Seasons the pork and infuses it with umami goodness. I like to use low-sodium soy sauce to control the saltiness of the marinade.
Cornstarch: This key ingredient is responsible for creating the delicious crispy coating.
Salt and Black Pepper: Used to season the pork before cooking.
Sweet And Sour Sauce
Rice Vinegar: Adds a slightly sweet touch of acidity that gives the sauce a tang and helps to balance the sweetness. If needed, you can use apple cider vinegar as a substitute.
Brown Sugar: The molasses in brown sugar plays a key role in providing a rich, caramel-like sweetness and contributes to the sauce's thickness.
Chicken Broth: Forms the base of the sauce and helps to dissolve the cornstarch. I like to use low-sodium chicken broth to control the amount of added salt.
Ketchup: This kitchen staple adds to the sweet and tangy flavor profile.
Tomato Paste: Adds body to the texture and depth of flavor to the sauce with another layer of umami.
Pineapple Juice: This is an important key ingredient that provides natural sweetness and a hint of tropical flavor.
Cornstarch: Essential for thickening the sauce. You can substitute it with arrowroot starch if you prefer.
Salt: Used to taste to season the sauce.
Stir-Fry
Bell Peppers: Green bell pepper and red bell pepper add texture and flavor to the dish as well as a pop of vibrant color.
Onion: Complements the pork and adds another layer of texture. Brown onion works best in stir fry.
Garlic: Freshly minced garlic provides a delicious pungent and aromatic flavor.
Pineapple Chunks: Provide bursts of sweet tropical flavor and a contrasting texture.
Vegetable Oil: Used for frying the pork and stir-frying the veggies.