Alfajores (Dulce de Leche Sandwich Cookies)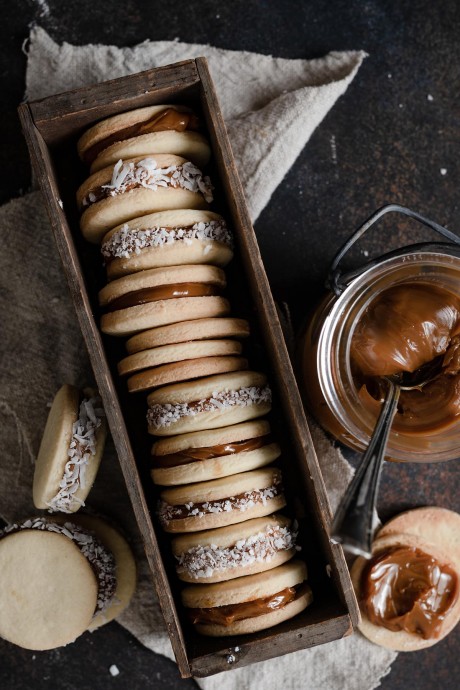 Alfajores are tender sandwich cookie filled with a layer of dulce de leche and commonly rolled in coconut. They are a popular cookie found in many Latin American countries and when packaged you can often find them dipped in chocolate. They have long been one of my families favorite cookies!
I can't understand why these delicious dulce de leche filled, shortbread-like cookies aren't super popular here in the United States. These cookies melt in your mouth!
Surprisingly enough I like these cookies best the second day. Just after adding the dulce de leche to cookies are still nice and crisp but after resting the moisture of the dulce de leche soaks into the cookies and makes them deliciously tender. Which would you prefer crisp or soft and tender? I like to store these in the fridge for longer shelf life, they should keep well in there for about 6 days. You can eat them cold or bring to room temperature before serving. Sometimes I like to add a little coconut extract to the cookie batter for extra coconut flavor (add with vanilla). They're also delicious with a little lemon zest added to the batter (add with sugar). It's fun to spread dulce de leche around the edges of the cookies and roll in other various toppings. Try things like sprinkles, nuts, shaved chocolate or toasted coconut.
Ingredients:
1 1/8 cups (162g) cornstarch
1 cup (128g) all-purpose flour
1 tsp baking powder
1/4 tsp salt
10 Tbsp (141g) butter , softened
2/3 cup (134g) granulated sugar
3 large egg yolks
1 1/2 tsp vanilla extract
1 cup Dulce de Leche, canned or homemade
Finely shredded coconut (optional)