Rocky Road Pie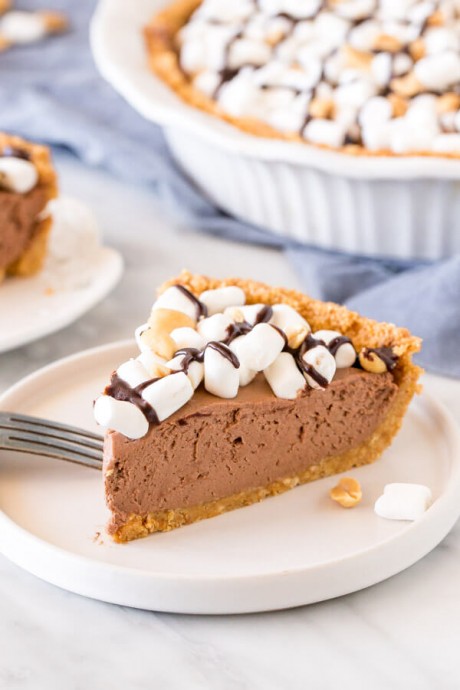 Chocolate, peanuts and marshmallows make this rocky road pie irresistible. With a creamy filling that's completely no-bake, it's the perfect take on rocky road!
Rocky road was a favorite ice cream flavor from my childhood, and this rocky road pie is essentially rocky road ice cream in delicious pie form. It's hard not to love creamy chocolate, swirls of marshmallow and crunchy peanuts. And this easy pie has all of those things.
The crust is a simple graham cracker crust infused with peanut butter, and the filling is essentially a no-bake chocolate cheesecake that's not too tangy and extra creamy. Then it's topped with everything rocky road: marshmallows, peanuts and even more chocolate. The pie will need to chill in the fridge for at least 6 hours before serving to firm up. You can either add the toppings before it goes in the fridge to chill, or right before serving. Totally up to you. I add marshmallows, peanuts, and chocolate ganache. But feel free to use whatever kind of nuts, and chocolate sauce or fudge if you prefer. Easy, creamy, delicious – this rocky road cheesecake pie is perfect for anyone who loves the classic ice cream flavor.
Ingredients:
2 cups graham crumbs*
3 tablespoons brown sugar
4 tablespoons peanut butter
6 tablespoons unsalted butter
4 oz semi-sweet chocolate*
12 oz cream cheese* softened to room temperature
2/3 cup powdered sugar
1 cup heavy whipping cream*
1/2 cup mini marshmallows
3 tablespoons peanuts
2 oz semi-sweet chocolate or use chocolate sauce