Chinese Scallion Pancakes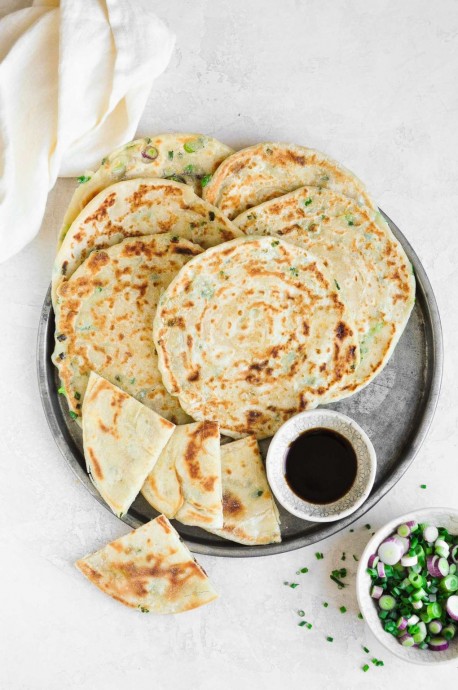 These light, flaky and crispy pancakes are a great appetiser or as a side dish to many Chinese meals. Not only are they so easy to make at home, but you can also eat as much as you want without breaking the bank! The star ingredient in Chinese Scallion Pancakes are – you guessed it – scallions, which are also called spring onions or green onions. I find the really thin and skinny scallions to be best for this recipe as they make for easier eating, but large and fat scallions also work well.
If you can get your hands on red scallions (like those pictured in these photos), they add a wonderful pop of red/purple colour to these pancakes. The rest of the ingredients are likely to already exist in your pantry, which means you can make these delicious pancakes with very little preparation. These Chinese Scallion Pancakes are great served as appetisers, but I often serve them as part of a meal, especially alongside dishes like Vietnamese Roast Pork Belly or Chinese Roast Duck. I always make a dipping sauce for these Scallion Pancakes. Simply stir together some light soy sauce with some Chinese black vinegar (add more or less of the other to taste). If you like a fiery kick, I would also suggest adding some Sriracha or other chilli sauce to taste.
Ingredients:
450 g (3 cups) plain flour (all-purpose flour)
1 teaspoon fine salt
250 ml (1 cup) warm water
1 tablespoon vegetable oil
3–4 tablespoons sesame oil
fine salt
scallions (spring onions), finely sliced
vegetable oil for frying
To Serve
soy sauce
Chinese black vinegar (chinkiang vinegar)